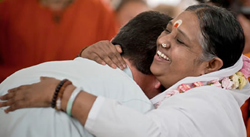 Amma has done more work than many governments have ever done for their people…her contribution is enormous
Elburn, Illinois (PRWEB) June 13, 2016
In just a couple of weeks, renowned humanitarian and spiritual leader Mata Amritanandamayi, known to millions around the world simply as Amma, will host three days of free public programs at MA Center Chicago, located in Elburn, Illinois. The programs will take place at 11 am Monday, June 27, at 10 am and 7 pm Tuesday, June 28, and at 10 am and 7 pm on Wednesday, June 29, 2016.
Amma travels all over the world, guiding people to a better understanding of how to be happy, as well as offering insights and solutions to global issues such as environmental pollution, the mistreatment of women, and religious disharmony. She inspires those she meets to make more space in their hearts for others and to help the needy. Amma does not ask anyone to believe in God or to change their faith, but to inquire into their own true nature. Amma's teachings are universal. When asked about her religion, Amma says, "My religion is love."
Amma has personally embraced more than 34 million people across six continents. Her message of love resonates with people of all nationalities, religions and races. Amma's dedication to uplifting others has culminated in an international network of charitable projects which operate under the banner Embracing the World®, now active in more than 40 countries. Amma has been honored with a number of international awards, including the prestigious Gandhi-King Award for Non-Violence (2002), the James Parks Morton Interfaith Award (2006) and the Cinéma Vérité Award (2007) for humanitarian and human rights work. In December 2014, Amma joined Pope Francis and 10 other global spiritual leaders from a range of faiths to sign the Declaration of Religious Leaders Against Modern Slavery.
At the center of Amma's life is her darshan: the tender, caring embrace sought by millions. It is in this intimate manner—through a heartfelt hug—that she receives one and all, listening to their problems and providing comfort and inspiration. If you attend one of Amma's programs, one of the first things you will notice is that people come to Amma from all religions and all walks of life. Some have been dedicated to a spiritual path for decades, while others have yet to pick up a spiritual book. Some come because they are suffering mentally, physically or materially, and they hope Amma can help them. Some are simply curious. Regardless of why they have come, many describe experiencing a feeling of pure and unconditional love in Amma's presence. Some are moved to tears and feel emotionally healed; others experience profound peace or joy.
Amma's message of love and compassion resonates powerfully in today's world, and Amma's record of tireless service – or compassion in action – inspires volunteers all over the world to selflessly serve others. In the words of Professor Muhammad Yunus, 2006 Nobel Peace Prize Laureate, "Amma has done more work than many governments have ever done for their people…her contribution is enormous."
This year in Elburn, thousands of people are expected to seek Amma's life-changing embrace during her programs at MA Center Chicago, located at 41W501 Keslinger Road. Whether you feel drawn to meet Amma because of her message of unconditional love or her inspiring charitable works, Amma's programs have much to offer everyone. For more information about Amma and her Chicago area programs, visit http://www.amma.org/chicago or http://www.facebook.com/macenterchicago. Visit http://www.embracingtheworld.org/ for more details about Amma's charitable activities.