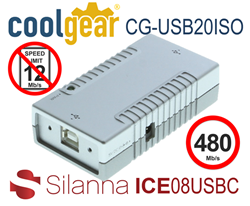 Driven by the ICE08USBC, the CG-USB20ISO is capable of supporting the USB 2.0 High-speed data rate of 480 Mbps and eclipsing the limited 12 Mbps performance of existing USB isolators in the market.
Clearwater, FL (PRWEB) April 05, 2016
CoolGear's CG-USB20ISO compact USB 2.0 high-speed isolator is a breakthrough in isolation technology achieving 480 Mbps data rates with its bus powered, low power consuming design while still compatible with USB 1.1. The USB Isolator's design and engineering makes it the first of its kind to support the full specification of USB 2.0. The capacitive galvanic isolation of Silanna's ICE08USBC provides the barrier that separates its logic between upstream and downstream devices. "Having worked closely with CoolGear's CG-USB20ISO design team from its conception, it's great to see this leading-edge product out in the market," said Gil Baterina, Sr. Product Marketing Manager at Silanna.
Protecting your equipment is first and foremost in achieving and keeping a successful operation. The CG-USB20ISO USB 2.0 Isolator by CoolGear is designed to be the first small scale isolator to protect against high voltage surges with 2,121 vrms (3,000 VDC). With its small form factor and surge protection features, the USB 2.0 isolator continues to maintain high performance and high speed USB 2.0 data demands.
The CG-USB20ISO USB 2.0 Isolator is bus powered for light power consumption devices and uses an additional DC jack connection for self-powered mode when the downstream port requires more power.
Purchasing the USB 2.0 Isolator for Industries that are using expensive equipment that build, produce, or read in some way such as 3-D Printers, Robotics, HI-FI Audio, Kiosk Stations, CNC Machines, Medical Devices and more can benefit from this isolator where voltage spikes may occur during use and damage devices. Wouldn't you like to protect your equipment investment worth hundreds if not thousands of dollars?
The ICE08USBC is Silanna's follow-on product to the ICE08USBA and ICE08USBB devices introduced last year for isolating USB 2.0 downstream facing ports (DFP) and upstream facing ports (UFP), respectively. The ICE08USBC combines the ICE08USBA's downstream cable/connector interface capabilities with the upstream interface features of the ICE08USBB; the ICE08USBx series of USB 2.0 port isolators are part of the Silanna ICE (Isolator Core Enhanced) family of products featuring galvanic isolation technology that combines capacitive isolation and CMOS circuitry on a Silicon-On-Sapphire (SOS) platform. The enhanced connectivity of the ICE08USBC makes it ideal for standalone USB isolation products that target existing USB connections; these can be in the form of isolated USB cables, dongles, or modules such as CoolGear's CG-USB20ISO. "Silanna's ICE08USBx products finally give us the true USB 2.0 High-speed isolation that our customers have needed," commented Rene Rozycki, President of CoolGear.
CoolGear CG-USB20ISO Features -
Compliant with USB 1.1 and USB2.0 High-speed
Supports High-speed, Full-speed and/or Low-speed
Packet Protocol Sequencer for Endpoint 0/1
Provides 1 Downstream Facing Port
Supports Screw-Lock USB Mechanism
Supports Wall and DIN RAIL Mounting Kits
Up to 480 Mbps USB 2.0 High Speed Data Rate
Supports 2,121 Vrms (3,000 VDC) Isolation Between Upstream and Downstream Facing Port
Supports Self-powered and Bus-powered Mode
Buit-in Power LED Indicator
Supports DC Jack for Downstream USB Bus Power
For more details on CoolGear's CG-USB20ISO, please visit
http://www.coolgear.com/product/usb-isolator-high-speed
Silanna ICE08USBC Features -
USB 2.0 Compatible
Low, full, and high speed data rates: 1.5 Mbps, 12 Mbps, and 480 Mbps
Auto-Negotiation of Link Speed
Bidirectional communication
3000 Vrms Isolation Voltage per UL 1577 - UL File Number E473534
Capable of driving both USB DFP and UFP connectors and cables
16-lead SOIC wide-body package
RoHS compliant
To learn more about Silanna's ICE08USBx products, please go to
http://www.silanna.com/usb.html
About CoolGear -
Located in Clearwater Florida, CoolGear Inc. has been developing, manufacturing, and providing premier computer peripherals since 1997. The company's success in providing to Aerospace, Education, and Consumer Industries has launched it into being a number one supplier of industrial serial adapters and USB component products on the Internet today. CoolGear products are shipped worldwide to destinations around the globe while continuing to develop advanced technology, manufacture quality products, and test out new ideas and concepts for computer technology and its advancements. For more information on CoolGear, Inc., please visit http://www.coolgear.com
About Silanna Semiconductor -
Founded in 2006, Silanna is a privately held technology company headquartered in Brisbane Australia, with facilities in Sydney Australia, San Diego, CA, and Raleigh, NC. The company operates a wafer fabrication facility in Sydney, Australia where it develops advanced CMOS and Compound Semiconductor technologies. Silanna's US operations focus on developing and commercializing products using advanced CMOS technologies bringing those to high volume production in various independent semiconductor foundries spread around the world. For more information on Silanna, please visit http://www.silanna.com