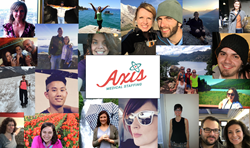 "It's truly a family atmosphere at Axis. Our goal has always been to build a company culture based on trust, transparency and teamwork. This recognition further validates that we're on the right track." - Ryan Skjonsberg, Co-CEO
Seattle, WA (PRWEB) January 19, 2016
In their most recent achievement, Axis Medical Staffing was named one of the Top Travel Nursing Companies for 2016 by Travel Nursing Central, a leading source for travel nursing company reviews. This honor is given to travel nursing companies who receive high ratings from their travel nurses in over twenty diverse corporate areas including pay, benefits, honesty, assignment selection, reputation and professionalism.
Travel Nursing Central received more than 3,900 ratings on over 190 agencies and only twelve were chosen to receive the Top Travel Nursing Companies for 2016. The ratings themselves were created from actual travel nurses and Axis Medical Staffing received this award based on the positive relationships it has established with its nurses. This rating acts as a stamp of approval from travel nurses in the field.
"It's an honor to be recognized as a Top Travel Nurse Company for 2016," explains Ryan Skjonsberg, the Co-CEO of Axis Medical Staffing. "We pride ourselves on taking the time to build personal, lasting relationships with our nurses. The inclusion of Axis on this list and the feedback provided by our travelers, illustrates that we are a preferred choice for travel nurses seeking their next adventure."
Nurses are in high demand throughout the United States and the travel nurse industry as a whole is highly competitive. This honor provides further evidence that Axis Medical Staffing has proven itself to be a favored option for travel nurses who seek 13 week assignments throughout the country.
"We were proud to be listed as one of the Top Travel Nurse Companies for 2016," says Adam McKinnon, Co-CEO of Axis Medical Staffing. "This speaks to our company's ability to listen to our nurses, build lasting partnerships and provide excellent opportunities for our travel nurses. Our vision for our Rock Star Nurses, is to not only enjoy the current city in which they reside, but to also be afforded the opportunity to visit any destination with Axis by their side."
Unlike many other travel nurse companies, Axis Medical Staffing boasts a fun and non-corporate atmosphere. They refer to their travel nurses as "Rock Stars" and offer a slew of travel nurse benefits including industry leading pay packages, flexible schedules, plenty of available jobs, one-on-one attention from their recruiters and an easy application process.
To view the list of Top Travel Nursing Companies, visit Travel Nursing Central. To learn more information about Axis Medical Staffing, continue reading below or visit their website directly.
About Axis Medical Staffing:
Axis Medical Staffing places travel nurses and medical professionals in healthcare facilities across the nation. Headquartered in Seattle, WA, Axis specializes in contract, per diem, and full-time direct hire placements. Founded in 2004, Axis was first recognized by The Joint Commission in 2007 when they earned the Health Care Staffing Services Certification. A certification they have successfully upheld since that time. For more information on Axis Medical Staffing, visit http://www.axismedicalstaffing.com.
END