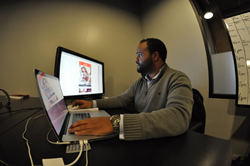 Without Vector, I would not have had the knowledge, experience, focus, drive, and forward-thinking attitude to take this path.
Chicago, IL (PRWEB) January 19, 2016
Two former Vector Marketing sales representatives have created a new social media app meant to save Millennials from their own online antics. In an era where partying pictures or rambling posts and tweets can be a huge professional liability, Backspace offers users a less-permanent type of communication. The app's content self-deletes in 24 hours, more closely mimicking actual human interaction than other social media platforms.
Created by former Vector sales professionals and Chicago entrepreneurs Justin Romano and Matt Harris, Backspace debuted in the Apple App Store for iPhone in September 2015. As of mid-December, it had more than 700 users on its platform. Romano said Backspace is important because it resembles the way humans talk to each other face-to-face. You wouldn't remember every detail of a five-minute, in-person conversation years down the road, so why should that kind of exchange be available online years later?
"The coolest thing about Backspace is that you can actually be yourself," Harris added. "You don't have to behave or censor yourself. It's the social network that wants you to be you."
On Backspace, content is also more current and relevant, says its creators. By default, posts disappear in 24 hours. But interaction with a post by other users can extend its shelf life — although not indefinitely. No need for online profile "scrubbing" here.
Harris and Romano started Backspace with their own funds and are raising $500,000 in seed funding. The pair credit much of their success to their experiences working as Vector Marketing sales representatives.
Harris graduated from the University of Arizona with a degree in Computer Science. He is a former branch manager in the Chicago Division of Vector Marketing, the sales and marketing arm of Cutco Cutlery. Romano was an assistant district manager and field sales manager in the Chicago Division and paid his way through Valparaiso University by selling Cutco products. He graduated in 2012 with a degree in International Business and went on to receive his MBA from Argosy University.
"Working with Vector taught me to be an entrepreneur and a leader," Romano said. "Without Vector, I would not have had the knowledge, experience, focus, drive, and forward-thinking attitude to take this path."
About Vector Marketing:
Vector Marketing is the marketing and sales arm of Cutco Cutlery, a 65-year-old company with headquarters and manufacturing facilities in Olean, New York. Vector sells Cutco products through a national team of sales representatives primarily consisting of motivated college students who are trained to do in-home and virtual demonstrations on a pre-set basis. Vector Marketing has over 200 locations nationwide and works with students of all majors with any levels of professional experience.