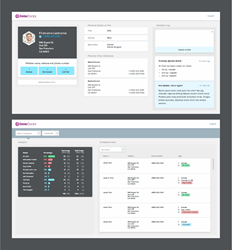 BetterDoctor's ProofPoint offers the most robust and regularly verified doctor data in the marketplace," explains Tapio Tolvanen, CTO at BetterDoctor.
San Francisco, CA (PRWEB) February 24, 2016
BetterDoctor Inc. announced today that it will launch its newest product, BetterDoctor ProofPoint, at HIMSS 2016 in Las Vegas. This product serves Health Insurers and Managed Care Organizations with a scalable technology platform to update their provider directories and successfully comply with new federal and state regulatory requirements.
Inaccurate provider directories are costly to both consumers and insurance providers. New stricter mandates including Federal Exchange rules, Medicare Advantage, and Qualified Health Plan Directory requirements request health care organizations to have more accurate provider directories. Penalties for noncompliance may be severe. For Medicare Advantage directories, for example, there could be bans on new enrollment and marketing or fines up to $25,000 will be applied per day per beneficiary. California's SB-137, passed in October 2015, also requires health plans in the state to comply to stricter provider directory standards with similar penalties applying.
"BetterDoctor's ProofPoint offers the most robust and regularly verified doctor data in the marketplace," explains Tapio Tolvanen, CTO at BetterDoctor.
Services via ProofPoint include real-time validation, timestamp proof that validation has occurred, and customized ways to develop scalable validation efforts for health plans. More importantly, providers can participate for free by updating their information on BetterDoctor's provider portal, responding to our emails, and direct phone calls.
When a doctor updates their information with BetterDoctor the following happens:
-The updates are pushed out in 'real time' to over 150 healthcare companies using the BetterDoctor API. This partner network reaches over 60 million consumers each month.
-Our health plan partners are notified of the update(s) and can quickly incorporate them into their own member facing directories.
-Our website BetterDoctor.com is updated, which has helped over 20 million consumers find a doctor with a uniquely designed user experience.
Ultimately, this helps health plans focus on giving the best care they can to their members and unburdens them from the administrative cost and legwork of validating provider data.
Ari Tulla, BetterDoctor CEO, puts it this way, "We want to make this data available to everyone to make healthcare more transparent. Through BetterDoctor ProofPoint, we aim to simplify the healthcare industry's provider directory challenges."
BetterDoctor ProofPoint helps health plans by:
-Cleansing provider directories
-Automating and optimizing the validation process
-Providing historical and attestation data for submission to regulators
Why accurate provider directories are necessary:
-Consumers need accurate information about the providers and facilities that are in health plan provider networks when shopping for coverage.
-Health plan enrollees need accurate information about which providers and facilities they can visit in-network.
-Accurate information is necessary for consumers, regulators, and lawmakers to assess the adequacy of an insurer's network.
For more information about BetterDoctor or BetterDoctor ProofPoint, please contact press(at)betterdoctor(dot)com.
To access our provider data, visit us at data.betterdoctor.com.
###
About BetterDoctor:
BetterDoctor brings transparency to provider data. Their real-time platform, master database and API services enable organizations to quickly add provider data to systems, websites and applications. The information is used to help patients find the right doctor for them. Today, BetterDoctor API and data tools power health insurance companies, healthcare startups and doctor search tools.