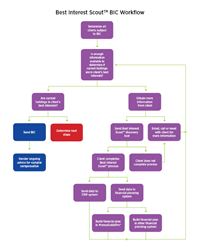 Powhatan, VA (PRWEB) July 21, 2016
The creator of the leading financial planning software, MoneyGuidePro®, released today a scalable, stand-alone discovery tool to help broker/dealers, banks, registered investment advisory firms, insurance companies, mutual fund companies, annuity companies and other financial product manufacturers complete discovery necessary to understand a client's full financial circumstances in support of the new Department of Labor "DOL" regulations. The new offering is called Best Interest Scout™.
Best Interest Scout™ is completely configurable - allowing firms to define the firm-specific information required to identify whether a client's holdings are aligned with their best interests. It can even be deployed by firms that do not engage in financial planning or that use a different financial planning platform. Unlike other existing data gathering systems, Best Interest Scout™ leverages the patent-pending, multi-media lab experience which engages the client via software, video instruction and live chat support - all features that were developed for PIEtech℠'s award-winning myMoneyGuide® guided planning experience. The multi-faceted engagement is critically important, as it provides a thorough exploration of the client's total financial picture.
Kevin Knull, CFP®, President of PIEtech℠, Inc. stated, "Best Interest Scout™ offers an alternative discovery method to help firms ensure they're meeting their clients' best interests before they deliver a Best Interest Contract. This should allow firms who have not fully engaged in financial planning a chance of meeting the DOL's April 10th, 2017 deadline."
Best Interest Scout™ goes beyond the typical one-variable risk tolerance/asset allocation questionnaires that are primarily in use today. Retirement expectations, concerns, detailed goals, health care costs, Social Security income, longevity risk, market risk, interest rate risk, retirement assets, non-qualified assets, liabilities, employee benefits, insurance needs and even estate planning needs are captured in the process. With a deeper discovery and understanding of the client, financial professionals should be better equipped to meet their new obligations as fiduciaries.
"In order for a firm to operate prudently, they should ensure the existing investment products subject to the DOL rules are in the client's best interests," says Marcia Wagner, Esq., of Boston's Wagner Law Group. "It is essential that an advisor understand the client's full financial circumstances in order to ensure best interests. This is the standard by which BIC adherence will be judged."
To comply with the DOL requirements, the firm should identify which clients should be sent a Best Interest Contract (see Best Interest Scout™ BIC Workflow) and then should decide if sufficient information exists to determine whether the client is currently invested in their best interests. If so, the firm may then send a BIC contract. "If they have determined otherwise, the firm must decide what to do next," says Kevin Knull.
If there is inadequate information to determine whether the advisor is operating in the client's best interest, the firm/advisor should seek additional information to best understand the client's full financial picture. Best Interest Scout™ provides a client-initiated, scalable means for the discovery process. The firm simply invites the client to complete the process and then reviews the data. Depending on the client information entered into Best Interest Scout™ the firm may decide to build a financial plan or seek more information.
Firms already integrated with MoneyGuidePro® can add Best Interest Scout™ for an additional per household fee. The service is offered to other firms on a per household basis, and requires integration via a client-facing website or portal. This offering is not available to individual advisors and must be implemented at the firm level.
For product manufacturers of all types, Best Interest Scout™ provides a broadly scalable way of helping firms determine their clients' full financial situation. The system can help firms obtain data for millions of their clients prior to the April 10th, 2017 fiduciary deadline. Kevin Knull, CFP®, President of PIEtech℠, Inc. said, "'Understanding your client is the requirement for firms to comply with the new DOL rules. While we continue to believe that the delivery of a quality financial plan is the easiest and most prudent means of understanding a client's full financial circumstances, Best Interest Scout™ is an alternative method to help firms obtain the information needed to operate in a client's best interests." Regardless of the firm type, Best Interest Scout™ can help financial institutions meet their new responsibilities in a post-DOL rule world.
##
About PIEtech℠, Inc.
PIEtech℠, Inc.'s vision is that everyone needs and deserves a quality financial plan. PIEtech℠ is the creator of MoneyGuidePro®, the industry's leading financial planning software, and myMoneyGuide®, a client-driven digital planning solution that allows firms to broadly offer financial planning. For more information on PIEtech℠'s powerful financial planning solutions, visit http://www.moneyguidepro.com.