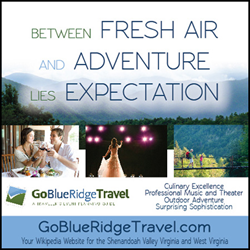 Explore the best of the Blue Ridge
Winchester, Virginia (PRWEB) April 28, 2016
Spring is in full bloom and what better way to enjoy the beauty of the Shenandoah Valley than to experience some of the things that the Shenandoah Valley has to offer. There are many secrets hidden in the valley that many don't know about ranging from Outdoor Adventure, Historical Moments, to Culinary Trails and much more.
Culinary Trail
The Shenandoah Valley is full of excellent wineries, breweries, distilleries, fine dining, and lots of local flavors to choose from.
Secret #1 – Backroom Brewery
Ever had a craft beer brewed the old fashioned way? This is 13th century, ancient Gruit brewing! This type of beer tasting will be featured in the Virginia Herb Festival this coming June 11th & 12th at the Sunflower Cottage Herb Farm & Backroom Brewery. Enjoy meeting the best chefs here in the valley sponsored by TasteofBlueRidge.com. Come enjoy the modernized brew and pick some lovely herbs this summer at the farm.
Events
The heart of the Shenandoah Valley is only 90 minutes from Washington, D.C. with so many festivals and events to offer you won't want to leave.
Secret #2 - Shenandoah Apple Blossom Festival
One of the Best Kept Secrets of the Shenandoah Valley is the Shenandoah Apple Blossom Festival which has been a tradition of Winchester, Virginia for 89 years! This year the bloom will be happening a little earlier than usual from April 22-May 1. The oldest festival in the United States that's totally volunteer based, experience one of the thirty events including: band competitions, dances, parades, a carnival, circus, dinners, luncheons, a 10K Race, and celebrities come on down to the Valley for some bloomin' fun!
Historical Moments
The Shenandoah Valley is one of the most historic regions in Virginia. It is documented that the valley was settled in 1671. Throughout these past hundreds of years, there have been historical footprints embedded in the Valley that many do not know about.
Secret #3 – Meem's Bottom Covered Bridge
The Meem's Bottom Covered Bridge extends over the Shenandoah River on Wissler Road in Mount Jackson, Virginia. Virginia's longest covered bridge in Virginia is 204 feet long and was originally constructed between 1867 and 1868. Since then a flood destroyed it in 1870 and by fire in 1976. It has been rebuilt, and steel beams to help preserve this historical landmark have replaced the once wood frames.
Outdoor Adventure
One secret is that there are many places in the Shenandoah Valley to get close to nature whether you're hiking, zip-lining, biking, golfing, or enjoying the river sports bring your friends and families so we can experience some outdoor adventure together.
Secret #4 – George Washington Forest and Bluzzard Rock
One of the best things about Spring is going on a hike to enjoy the fresh air before that summer weather comes to the Valley. The Shenandoah National Park is well known but many do not realize that Virginia also has national forests. The George Washington Forest is one of the many "Best Kept Secrets" of the Shenandoah Valley. Within the forest is a region called Fort Valley, which includes the Elizabeth Furnace campground. Explore a beautiful hike up to Buzzard Rock. This hike is about 2 miles long but once one reaches the top one can see the long ridgelines, beautiful peaks, the smell of the fresh, crisp air, and the lush green environment.
Surprising Sophistication
When it comes to sophistication, the Valley will astonish you with the level of professionalism that exists in the arts, music, theater, and dance.
Secret #5 - The Bright Box Theater
The Bright Box is a wonderful venue that hosts many different shows ranging from live music to stand-up comedy They've been ranked one of the top 50 Best Small Music Venues in America alongside venues in New York City, San Francisco, Chicago and Boston. The Bright Box Theater is definitely one of Shenandoah Valley's Best Kept Secrets.
Where to Stay
When one comes to the Valley to visit, one might ask the question where should one stay?
Secret #6 - Hillbrook Inn and Spa
Hillbrook Inn and Spa is definitely one of the best luxury country inns here in the Shenandoah Valley with their location in Charles Town, West Virginia. Many people do not remember that West Virginia prior to the Civil War was Virginia. Young George Washington once owned about 2,000 acres of land including the property that comprises Hillbrook Inn. Owned by Christopher and Caressa Zanella, this fabulous Inn now consists of three properties offering a total of eighteen guest suites. Come and get comfy with Hillbrook Inn.
Interested in finding out more secrets? Keep up with Go Blue Ridge Travel (GoBRT) on Facebook, for the posting of the valley's Best Kept Secrets featuring surprising gems. Want to know even more about the Valley? Visit goblueridgetravel.com where one can map out an itinerary and share with friends. There is so much to do here in the Blue Ridge Mountains and GoBRT would love to help one experience it.