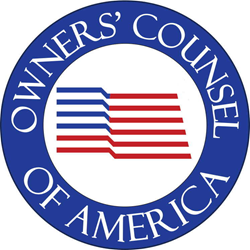 OCA's Board of Directors is comprised of some of the nation's most highly skilled and effective attorneys and represents truly extraordinary talent, experience and passion.
Jacksonville, Florida (PRWEB) February 17, 2016
The Owners' Counsel of America (OCA), a nationwide network of leading eminent domain attorneys, recently elected three accomplished lawyers to serve on its Board of Directors: Dwight H. Merriam, CRE, a partner with Robinson & Cole LLP in Hartford, Connecticut; Mark V. Meierhenry, a partner with Meierhenry Sargent in Sioux Falls, South Dakota; and John Kevin Walsh, a member of Harris Shelton Hanover Walsh, PLLC, in Memphis, Tennessee.
""We are pleased to have Dwight, Mark and Kevin join OCA's Board of Directors," said Andrew Brigham, Owners' Counsel of America President and Florida representative. "The depth of knowledge, experience and expertise each attorney has acquired throughout his career representing landowners in condemnation, land use and property rights matters is exceptional."
Throughout his career, Dwight H. Merriam, CRE, has amassed a wealth of experience in land use, real estate and property rights matters handling cases across Connecticut and the country. He has published over 200 articles and eight books, including The Takings Issue and Eminent Domain Use and Abuse: Kelo in Context. He is the senior co-author of the leading casebook in land use law, Planning and Control of Land Development (Eighth Edition), and has authored chapters in the seminal treatise on condemnation law, Nichols on Eminent Domain. In addition to his law degree from Yale, Merriam holds a Masters of Regional Planning from the University of North Carolina. He is a frequent speaker at legal and planning seminars, has been cited by the press and has appeared on national television discussing land use and property rights issues.
Mr. Merriam has held a number of leadership positions in some of the most prestigious national and international real estate and legal associations. He is a designated member of The Counselors of Real Estate®, a member of the Anglo-American Real Property Institute, a Fellow of the American College of Real Estate Lawyers, a Fellow of the Royal Institution of Chartered Surveyors and a member of the Rocky Mountain Land Use Institute's National Advisory Board. He is a Fellow and Past President of the American Institute of Certified Planners, a former Director of the American Planning Association (APA), and a former Chair of APA's Planning and Law Division.
A lifelong resident of South Dakota and graduate of the University of South Dakota and the University of South Dakota School of Law, Mark V. Meierhenry has developed a national reputation as a highly effective trial lawyer. He has tried over 250 cases, both criminal and civil, in state and federal courts, including more than 20 eminent domain and inverse condemnation matters. He has argued eight cases before the United States Supreme Court and numerous times before the South Dakota Supreme Court. He currently defends landowners' rights in eminent domain proceedings in both South Dakota and North Dakota.
Mr. Meierhenry served as South Dakota's Attorney General from 1979 to 1986 before entering private practice as a member of the Danforth Law Firm, now known as Meierhenry Sargent LLP. Prior to his service as Attorney General, he held the position of Director of South Dakota Legal Services and Adjunct Professor of Trial Practice and Indian Law. Recently, Meierhenry was honored with the Marshall M. McKusick Award for his lifetime of service and dedication to the practice and study of law. Presented annually to an outstanding member of the South Dakota Bar, the McKusick Award is named for Marshall M. McKusick (1879–1950), who served the University of South Dakota School of Law as dean and professor for five decades.
Over more than 35 years of practice, John Kevin Walsh has garnered significant experience representing landowners in condemnation proceedings across Tennessee. He concentrates his practice in civil litigation with a focus on eminent domain, land use litigation, environmental law and real estate, trying jury trials in both state and federal court. Walsh also counsels individuals in probate and estate administration and litigation.
Mr. Walsh has earned Martindale-Hubbell's® highest rating, AV Preeminent, and has been selected by Best Lawyers in America and Super Lawyers for his professional accomplishments. He is regularly invited to lecture on eminent domain law at continuing legal education seminars in Tennessee and nationally. In addition to his legal practice, Walsh is active in the Memphis community. He provides pro bono services for Ballet Memphis, assisting professional dancers in obtaining immigration visas, and the Fire Museum of Memphis, providing general legal advice.
"OCA's Board of Directors is comprised of some of the nation's most highly skilled and effective attorneys and represents truly extraordinary talent, experience and passion," remarked Brigham. "I look forward to working with Dwight, Mark, Kevin and the entire Board to advance OCA's goals and assist landowners facing eminent domain and property rights issues nationwide."
The Owners' Counsel of America ("OCA") is a nationwide network of eminent domain and property rights attorneys dedicated to protecting the rights of private owners large and small, locally and nationally, and to furthering the cause of property rights. Lawyers affiliated with OCA are in private practice in nearly every state and represent landowners against federal, state, and local governments, utilities, redevelopment authorities and others that have the power of eminent domain or engage in land-use regulation. OCA has an eight-member Board of Directors, newly-elected directors will serve three-year terms ending January 2019. For more information or to locate an eminent domain lawyer in your state visit http://www.ownerscounsel.com.