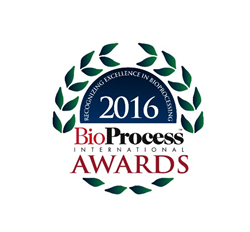 New York, NY (PRWEB) September 15, 2016
BioProcess International (BPI), the biopharmaceutical industry's leading business-to-business publication, today announced the finalists for the 2016 BioProcess International Awards. The awards celebrate the outstanding individual and team achievements, recognize emerging companies and their technologies, highlight groundbreaking business collaborations and strategies, corporate responsibility and technology applications that will allow the industry to deliver better, more effective treatments to a global patient base. Award winners and finalists, chosen from 125+ nominations from around the world, will be recognized at a special dinner and ceremony during the 2016 BioProcess International Conference on Wednesday, 5 October 2016, at the Boston Convention and Exhibition Center in Boston, MA.
"The BioProcess International Award program has come to represent the very best this industry has to offer. In 2016, a record number of submitted nominations ensures that this group of BPI Award finalists reflects and represents the dedication, innovation and imagination embodied by this industry as a whole," said Brian Caine, Co-Founder and Publisher of BioProcess International. "Congratulations to all the nominees and finalists. On October 5, 2016, at the BioProcess International Conference, we look forward to introducing the 2016 BioProcess International Award winners and their incredible achievements."
Award categories and finalists (in alphabetical order) appear below. For more information on the finalists and the 2016 BioProcess International Industry Champion, please visit http://www.bioprocessintl.com/awards.
BioProcess International 2016 Award Finalists
Excellence in Leadership
Recognizes any single individual in a company whose leadership skills have allowed them to successfully help their businesses achieve operational excellence.

Dr. Marcel Bassil, Associate Director, Biotech, Benta SAL
Dr. Igor Fisch, Chief Executive Officer, Selexis
Olivier Loeillot, General Manager, GE Healthcare
Emerging Company
Recognizes the companies to watch! New science, new technologies that have seen significant industry adoption with the chance to change the status-quo.

Cell and Gene Therapy Catapult * Cell Therapy
NuMedii * Digital Health
Quad Technologies * Cell Therapy
Corporate Citizenship
Recognizes companies that have made unique and significant contributions to the local, regional, and global community.

Baxter - The Baxter International Foundation
Biogen - Closing the Hemophilia Gap in the Developing World
GlaxoSmithKline - The PULSE Partnership
Excellence in Facility Design or Retrofit
Recognizes a facility that exemplifies innovation through the use of key technologies and/or designs.

FujiFilm DioSynth - Re-Purposing a Microbial facility for Multi-Product GMP Manufacturing
Gibraltar Laboratories - cGMP Independent Lab and Sterilization Services
JHL Biotech - Installation of KUBio Biomanufacturing Solution
Best Collaboration
Partnerships that have proven to result in significant benefits toward accelerating drug development.

G-CON/PCMM Consortium - The PCMM Consortium
Pall Life Sciences/FloDesign - Disruptive Cadence Acoustic Separator
Puridify/GSK - FibroSelect Industrial Use
Best Technology Application – Upstream
User or supplier of an application that has demonstrated significant adoption, process improvements and documented results.

Nova Biomedical - BioProfile FLEX2
Sartorius Stedim Biotech - SAM – Perfusion in an Ambr System
Stratophase - Ranger Service
Best Technology Application – Downstream
User or supplier that has been able to demonstrate reduction in downstream processing steps, time, and cost.

Pall Life Sciences - Cadence Acoustic Separator
Puridify – FibroSelect
Sanofi - Continuous Disposable Technology
Best Technology Application – Analytical
User or supplier has demonstrated increased functionality in novel combinations with other analytical technologies.

Catalent Pharma Solutions - Biolayer Interferometry (Octet)
Ovizio - iLine F
Sciex - High Throughput Glycoslyation Analysis
BPI's 2016 Industry Champion

Mark Petrich - Director, Single-Use Systems Engineering, Merck
BioProcess Awards Ceremony & Dinner - Wednesday October 5, 2016, from 7:00pm-10:00pm
As part of Biotech Week Boston (http://www.biotechweekboston) held Oct 4-7, 2016, the 2016 BioProcess International Awards dinner will honor the individuals, organizations and technologies that have significantly impacted, and advanced the efficiency of biotherapeutic development and manufacturing process.
A special offer for a three-day exhibit hall pass to Biotech Week Boston, along with a ticket to the BioProcess Awards Ceremony & Dinner is available for $299. Use VIP Code BIOPR299 to register online by September 30, 2016.
About the 2016 BioProcess International Awards Sponsors
GE Healthcare's Life Sciences business provides a wide range of bioprocessing solutions for the development and manufacture of high-quality biotherapeutics and vaccines. Using our expertise, we support our customers in increasing speed to market, while reducing costs and improving performance in drug manufacturing. As a provider of high-quality products, technical and commercial services, as well as design and construction of complete biomanufacturing solutions, we support the biopharmaceutical industry in making health visions a reality. http://www.gelifesciences.com/bioprocess
Pall Life Sciences is the leading global provider of filtration, purification and separation products and technologies to the diverse and rapidly expanding biopharmaceuticals market. These products and technologies are used from the earliest stages of discovery and development of new drugs, through production and delivery of therapies for the prevention, diagnosis and treatment of disease. Our biopharmaceutical products are supported by extensive protocols and technical reports, an industry-leading scientific and technical staff, and worldwide offices and distributors for easy ordering. http://www.pall.com/biopharm
JSR Life Sciences is a business unit of JSR Corporation, a global company built on more than 50 years of performance material expertise and it began research in the life sciences field more than 30 years ago.
We are continually developing highly functional materials and products to meet the current and future needs of the growing biotechnology industry. Using a variety of integrated, leading-edge technologies, JSR Life Sciences provides materials that contribute to the manufacturing process of biopharmaceuticals, life science research applications, in vitro diagnostics and medical devices. JSR Life Sciences has offices, laboratories and manufacturing facilities in Tokyo and Tsukuba (JP), Sunnyvale (CA, USA), Leuven (BE), and Beijing (CN). http://www.jsrlifesciences.com
Wuxi Biologics. As a premier Contract Discovery, Development and Manufacturing Organization (CDMO), WuXi Biologics provides our clients worldwide with the necessary expertise, quality and capacities to develop biologic drugs from idea to market. Along with our WuXi AppTec affiliates, we provide the world with the ONE true single-source approach that saves our clients critical time and money. http://www.wuxibiologics.com
2016 BioProcess International Awards Partners
BioProcess International would like to thank and recognize the following industry partners who help make this event successful
Bio-Process Systems Alliance http://www.bpsalliance.org
Women in Bio http://www.womeninbio.org
Biotechnology Innovation Organization http://www.bio.org
Biomanufacturing Training and Education Center http://www.btec.ncsu.edu
KNECT365 https://lifesciences.knect365.com/
BioNJ http://www.bionj.org
To view award program details, please visit: http://www.bioprocessintl.com/awards
About BioProcess International
BioProcess International (BPI) is a business-to-business publication dedicated to delivering cutting-edge
information focused on the development and manufacture of biopharmaceuticals and therapeutics.