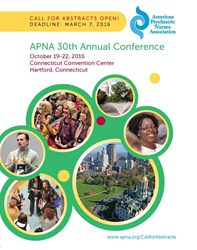 I encourage my colleagues to share their expertise to build our psychiatric-mental health nursing knowledge base and publicize the myriad ways nurses take the lead every day.
Falls Church, VA (PRWEB) January 11, 2016
The American Psychiatric Nurses Association (APNA) Annual Conference offers a platform for nurses in the psychiatric-mental health field to discuss and publicize innovative developments in practice, new original research, and important updates on clinical topics. Bringing together psychiatric-mental health nurses from across the globe each year, the conference program offers high caliber continuing education that spans psychiatric-mental health nursing administration, education, practice, research, and more. This year's theme, Psychiatric-Mental Health Nursing: Inspiring Leadership Every Day, highlights the exciting changes that psychiatric-mental health nurses pioneer across health care every day.
Advanced Practice Nurses, RNs, and other health care professionals are invited to submit abstracts to be considered for presentation at this year's Annual Conference, which will be held October 19-22, 2016 at the Connecticut Convention Center in Hartford, Connecticut. APNA is seeking abstract proposals for pre-conferences, concurrent sessions, mini-concurrent sessions and poster presentations. All submissions must be completed online by March 7, 2016 at 11:59pm Eastern Time.
"Nurses are again rated our nation's most trusted profession, which presents a powerful opportunity for us to inspire change in how mental health care is delivered in our country," says APNA President Mary Ann Nihart, MA, APRN, PMHCNS-BC, PMHNP-BC. "I encourage my colleagues to share their expertise to build our psychiatric-mental health nursing knowledge base and publicize the myriad ways nurses take the lead every day."
Suggested topics for abstract submissions include but are not limited to:

Addictions / Substance Use
Administration
Advanced Practice
Child and Adolescent
Complimentary & Alternative Therapy
Continuing Education
Cultural Issues
Emergency/Disaster Preparedness
Emergency Departments
eTools / Electronic Health Records
Forensic
Graduate Education
Inpatient
Integrated Physical & Mental Health Care
Leadership
LGBT Issues
Men's Health
Military / Issues Related to Returning Service Members
Older Adults
Outpatient
Pharmacology
Private Practice
Psychotherapy
Recovery
Research
RN-PMH Practice
Safety
Undergraduate Education
Violence
Women's Health
Submissions will undergo peer review by the APNA Scholarly Review Committee. Those selected for presentation at the conference will provide continuing nursing education contact hours. Recordings of presentations may be made available online following the conference, providing presenters with an enduring presence and broad exposure.
Several options are also available to organizations interested in participating in the APNA 30th Annual Conference, including industry-sponsored symposia, sponsorship and advertising opportunities, promotional product theaters, and exhibits in the Exhibit Hall. Visit http://www.apna.org/AnnualConference for more information.
###
The American Psychiatric Nurses Association is a national professional membership organization committed to the specialty practice of psychiatric-mental health nursing and wellness promotion, prevention of mental health problems and the care and treatment of persons with psychiatric disorders. APNA's membership is inclusive of all psychiatric mental health registered nurses including associate degree, baccalaureate, advanced practice (comprised of clinical nurse specialists and psychiatric nurse practitioners), and nurse scientists and academicians (PhD). APNA serves as a resource for psychiatric mental health nurses to engage in networking, education, and the dissemination of research.
The American Psychiatric Nurses Association is accredited as a provider of continuing nursing education by the American Nurses Credentialing Center's Commission on Accreditation.