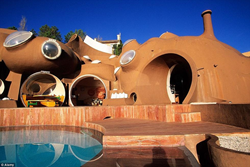 Pompano Beach, Florida (PRWEB) December 29, 2016
"2016 Top Ten Celebrity Homes"
Whether one's preferences lean toward a New York City loft, a Los Angeles home overlooking Hollywood, or a mid-century sculptured perch on the Mediterranean, there was a celebrity home on sale in 2016 for almost anyone who is extremely wealthy.
When designer Pierre Cardin looked for a vacation home, he chose one of the best locations in the world and a one-of-a-kind mansion with unique style. He chose a home on a Mediterranean cliff overlooking the sea made up of bubble gum pink bubbles. At $335 million, it is the second most expensive home currently for sale in Europe.
After almost 20 years of Las Vegas appearances, Frank Sinatra wanted a place where he and his friends could hang out for an occasional hiatus from their fans in a private location. His longtime home in Palm Desert, California is for sale at $3.9 million.
Millions of Elvis Presley fans have ogled over his Graceland mansion, but it was his first home with Priscilla in Trousdale Estates overlooking Los Angeles where the fans have been coming for years to write messages to Elvis on the gate door set into the garden wall. The home is now for sale asking $30 million.
Adam Levine and his supermodel wife, Behati Prinsloo, sold their New York City loft in April for $5.4 million - just a few months before welcoming their first child, Dusty Rose, into the world.
Back in 1982, before he was a billionaire and a brand name, reality television star and on his first marriage, Donald Trump was a rising star in the New York City real estate world and shopping for his first trophy mansion. His former Greenwich, Connecticut home was on the market in 2016 at $45 million.
As Kirk Douglas recently celebrated his 100th birthday at the Beverly Hills Hotel, a new family was moving into the Douglas family's longtime vacation home in Palm Springs, California. The home was designed in the 1950s for the owner of the champion racehorse Seabiscuit.
Other celebrity home news in 2016 included Tyler Perry, Pharrell Williams, Frank Lloyd Wright and Prince. Visit TopTenRealEstateDeals.com for a tour of 2016's Top 10 Celebrity Homes, spectacular homes and the latest real estate news.