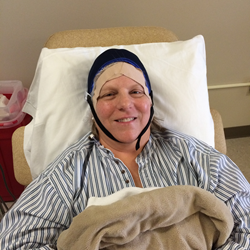 "We decided to spread the word of this amazing technology and how it can make such a difference in the life of a person who has just been given the tragic news that he/she has cancer. Keeping your hair means keeping your dignity."
Franklin, TN (PRWEB) February 25, 2016
The ChillCAP Program can help a cancer patient undergoing chemotherapy eliminate the loss of hair. "When a person finds out they have cancer they have two main questions," says Dr. Patrick Murphy of Tennessee Oncology. "The first question is 'am I going to live?' and the second question is 'am I going to lose my hair?' Now a patient can focus more on their health and not on the demoralizing effect of hair loss."
The ChillCAP Program uses a cold cap that is worn on the head prior to, during, and after chemotherapy treatment. When worn on the head during chemo, the frozen cap freezes the minuscule capillaries in the skin of the skull, thus not allowing the strong chemo drugs to penetrate the hair follicle. When worn correctly, 95% of patients using the ChillCap report complete success and no hair loss.
ChillCAP for Chemotherapy Hair Loss, was founded by Lindsay King and Betsy Wynn in Franklin, Tennessee. Lindsay King, a co-founder of the ChillCAP Program used the cold cap system when she underwent breast cancer at age 36. "The program worked miracles for me!" says Lindsay. "We decided to spread the word of this amazing technology and how it can make such a difference in the life of a person who has just been given the tragic news that he/she has cancer. Keeping your hair means keeping your dignity."
For more information, please call 615-785-0714.
ChillCAP
320 Mansfield Court
Franklin, TN 37069
615-785-0714
Betsy(at)chemochillcap(dot)com
Lindsay(at)cheochillcap(dot)com
http://www.chemochillcap.com