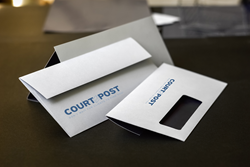 "CourtPost's goal is to dispel the myth that legal marketing cannot be professional. Our focus is on providing ethical, dignified, and professional legal marketing services." - Luke Schwartzer
Washington, DC (PRWEB) August 24, 2016
Attorney marketing and advertising has been a point of debate for decades. In fact, attorney advertisements were banned outright not too long ago. The State Bar of Arizona, for example, banned attorney advertising in 1976. The ban and subsequent initiation of disciplinary proceedings against a law firm founded by Bates and O'Steen resulted in a barrage of litigation. The case reached the Supreme Court of the United States, Bates v. State Bar of Arizona, 433 U.S. 350 (1977), and is a pillar in legal marketing jurisprudence.
The State Bar of Arizona argued that in essence that advertising would "undermine the attorney's sense of dignity and self-worth" and "tarnish the dignified public image of the profession". Furthermore, attorney advertising may be misleading, to the detriment of the public, and may generate frivolous lawsuits. The Supreme Court rejected these arguments and ruled that attorney advertising was commercial speech protected under the first amendment. Their reasoning was that legal advertisements are not inherently misleading and the "belief that lawyers are somehow 'above' trade has become an anachronism". In the end, bankers and other professionals advertise, why shouldn't lawyers?
Furthermore, fears of misleading advertisements have been addressed by the States. Advertising is regulated – in some states, like Florida, the state bar must approve all advertisements including websites (see Rule 4-7.19 of the Florida Rules of Professional Conduct). As the Supreme Court ruled "[f]or every attorney who overreaches through advertising, there will be thousands of others who will be candid and honest and straightforward."
The fact of the matter is that legal advertising gives consumers more options and more information. It also allows law firms to effectively allocate their resources and reach clients in need. This is where marketing companies, like CourtPost, come in.
CourtPost has legal professionals on their team - which gives them a unique understanding of clients. With this insight into the legal industry, CourtPost understands the needs of a growing law firm. CourtPost blends the latest technology with traditional marketing techniques and ensures that all of its services are compliant with all ethical rules and regulations. Their goal is to break whatever is left of the stigma that attorney marketing "tarnish[es] the dignified public image of the profession". Learn more about CourtPost.
A cornerstone of Attorney Marketing has become Direct Mail Marketing. This takes marketing to the next level. Direct Mail Marketing allows attorneys to specifically target individuals in need of legal services. These individuals, like most of the U.S. population, do not have an attorney on retainer and typically will only need an attorney once or twice in their life.
CourtPost's Attorney Direct Mail Marketing service is simple and straightforward. CourtPost's team identifies parties in need of legal services daily, from a myriad of sources, and targets them with a marketing piece. CourtPost provides DUI/DWI leads, Criminal leads, Bankruptcy leads, or even custom leads. CourtPost's mailing team also ensures that all marketing pieces are mailed the same day as leads are generated. An important accomplishment that give its clients an edge over the competition.
As state above, each pieces is rigorously vetted by our in-house legal professionals. The goal is to cement direct mail marketing for attorneys as the effective marketing technique while preserving a high level of professionalism. Learn More About Direct Mail Marketing.
CourtPost is also on the forefront of attorney website design, legal content drafting, and consulting. All of which, again, are offered with the highest degree of ethical compliance and professionalism. Learn More.
Legal marketing is always changing and there are still many obstacles that attorneys and law firms face. CourtPost makes it a point to discuss these issues and invites the public to participate via their blog.