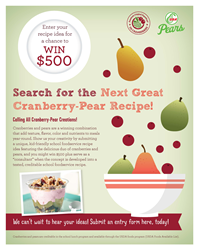 Cranberries and pears are two of my favorite foods because they both add delicious flavor that kids love.
Wareham, Mass (PRWEB) September 14, 2016
The Cranberry Marketing Committee (CMC) and USA Pears "peared up" at the 2016 School Nutrition Association Annual Nutrition Conference in San Antonio in search for the next great cranberry-pear recipe. After receiving many unique and creative ideas from school foodservice professionals across the country, the CMC and USA Pears are pleased to announce that the foodservice director at Oyster River Cooperative Schools, Doris Demers, is the $500 grand prize winner for her concept – baked winter squash with sweet potatoes, pears and cranberries. As America's Original Superfruit®, cranberries are easy and convenient to use in any form, making them a perfect fit for sweet or savory meals and recipes.
"Cranberries and pears are two of my favorite foods because they both add delicious flavor that kids love," said Demers. Demers, who recently received her dietetic technology degree from the University of New Hampshire, will serve as a consultant in developing her concept into a tested, creditable foodservice recipe.
"We're always looking to provide the school foodservice industry with useful cranberry recipes and resources," said Michelle Hogan, executive director of the Cranberry Marketing Committee. "Cranberries and pears make perfect sense since they pair well in so many dishes – from sweet to savory! We were thrilled to see the creativity of school foodservice professionals and are excited to add this new healthful recipe to our foodservice website for schools across the nation to use in their meals."
"We were excited to partner with the Cranberry Marketing Committee since the sweetness of pears and tart flavor of cranberries complement each other beautifully in recipes! In addition, with both fruits on the USDA's Foods Available List, they are easily accessible by foodservice professionals looking for creative and refreshing ways to incorporate fruit in their school menus," said Kathy Stephenson, marketing communications director of the Pear Bureau Northwest.
Demers has been working in school foodservice for the past 23 years and loves the creativity of the great staff she works with.
"No day is the same and we make such a difference in the lives of our students," she said. "I'm excited that my recipe was chosen, it's a crowd-favorite in my house and schools alike. It's such a good feeling when your ideas come to life," added Demers.
About the Cranberry Marketing Committee (CMC)
The CMC was established as a Federal Marketing Order in 1962 to ensure a stable, orderly supply of good quality product. Authority for its actions are provided under Chapter IX, Title 7, Code of Federal Regulations, referred to as the Federal Cranberry Marketing Order, which is part of the Agricultural Marketing Agreement Act of 1937, as amended. This Act specifies cranberries as a commodity that may be covered, regulations that may be issued, guidelines for administering the programs, and privileges and limitations granted by Congress. For more information about the CMC, visit http://www.uscranberries.com. Follow @USCranberries on Facebook, Twitter, Instagram and Pinterest.
About USA Pears
The Pear Bureau Northwest was established in 1931 as a nonprofit marketing organization to promote the fresh pears grown in Oregon and Washington. Today, the United States is the third largest pear-producing country in the world, and Oregon and Washington comprise the nation's largest pear growing region with 1,600 growers producing 84% of all fresh pears grown in the United States. Pears grown in these two Pacific Northwest states are distributed under the "USA Pears" brand. Pears are an excellent source of fiber (24% DV) and a good source of vitamin C (10% DV) for only 100 calories per medium sized pear. Sweet and juicy with no fat, no sodium, and no cholesterol, pears are a perfect choice for a snack as well as for any course of any meal of the day. For more information, visit http://www.usapears.org, http://www.facebook.com/USApears, and follow @USApears on Twitter.