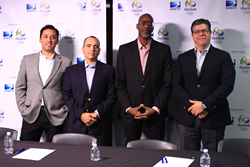 DIRECTV Latin America executives welcome former Olympics gold medalist, Edwin Moses, to share his perspective at the event held in Los Angeles on June 7, 2016.
(PRWEB) June 20, 2016
The leading television operator that offers the best entertainment experience in Latin America, will once again amaze viewers with an exceptional coverage of this sporting event that generates one of the highest viewership rates across the globe. Through DIRECTV, clients will be able to watch more than 10,000 athletes, set to meet in Rio de Janeiro between August 5th and 21st for the first-ever Olympic games held in South America.
"In DIRECTV we will provide a 360° experience for all of our clients, all of whom will enjoy the best programming, technology and unique production, making the viewer feel as if they were in Rio", says Jose Espinel, Marketing & Sales AVP for DIRECTV Latin America.
The exclusive DIRECTV Sports channel will provide the coverage an event of this magnitude merits. "We will provide our clients with an interactive mosaic with 8 different signals dedicated to the Rio 2016 Olympics so that they can enjoy the most important competitions and follow their favorite athletes." Our production studio will be located facing the Olympic park, from where our programming will be broadcasted" says Jose "Platao" Rocha, Programming Vice president, DIRECTV Latin America.
The DIRECTV Sports team will set up base in Brazil to deliver this extensive coverage. In addition to the competition broadcast, there will be two dedicated 24-hour channels. There will also be special edition programs focused on the event that include: Rio Total with Pablo Giralt will contribute towards the debate quota; Puro Concepto with Juan Pablo Varsky will finish off each day with an in-depth analysis while Central Deportivo will feature the top moments of the day.
Technology will also play a key role in this event. Clients will live the total sports experience through the interactive mosaic with eight simultaneous screens in high definition to follow all the disciplines, including a medal count that will inform the results for each country; and the channel 600 portal will offer stats, overview of awarded medals, calendars, activity schedules and daily results. This coverage will also be available online via computers, smartphones and tablets at directvsports.net, directvplay.com and DIRECTV Sports APP. In all these platforms there will be an option for selecting what discipline to watch along with a calendar of available events and also a news section so as not to miss out on any result.
You never imagined Rio this way
"You never imagined seeing Rio this way, and never imagined feeling it this way", this is the promise we at DIRECTV offer for this event, making it part of our marketing campaign, aiming to convey to our clients how the smallest difference can lead to a win for the athlete, paving the way into history books", says Francisco Miranda, Marketing Director for DIRECTV Latin America. He adds: "Our campaign also considers those competitive events that generate most interest in our clients, we know our clients and our service can provide them with the best possible Olympic experience".
One interesting fact of the London 2012 Olympics is that over 75% of the viewer focus was on the following disciplines: Athletics, swimming, basketball and Artistic gymnastics.
Programming information available in Argentina, Chile, Colombia, Ecuador, Peru, Uruguay and Venezuela.

DIRECTV Sports (channel 610) and DIRECTV Sports HD (channel 1610)
DIRECTV Sports 2 (channel 612) and DIRECTV Sports HD (channel 1612)
2016 Río Olympic Games portal (channel 600)
directvsports.net
directvplay.com
DIRECTV Sports App
Social Networks #Rio2016EnDIRECTV
Facebook DIRECTVSports
Twitter DIRECTVSports
YouTube DIRECTVSports at DIRECTV Latin America