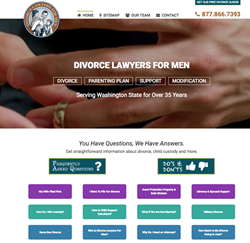 Seattle, WA (PRWEB) August 01, 2016
A unique network of law firms dedicated to representing men and fathers going through divorce, Divorce Lawyers for Men, has announced the launch of their recently updated and revamped website, offering more information, more resources, and easier navigation.
With this launch, Divorce Lawyers for Men want to provide men going through divorce or divorce modification with all of the information that they need. The process can be complicated, confusing, and if not armed with the right information, could end up costing men more in the end.
For those men who want full custody or at least equal custody of the children, there are essential steps that must be taken even before the petition for divorce is filed. Most men don't know what those steps are. This new website is full of helpful information so that men go into divorced prepared.
Divorce Lawyers for Men is also using their new website design to add more resources for those going through divorce, child custody disputes, and divorce modification. On the newly redesigned site, users can download a free copy of the firm's Divorce Guide for Men.
In the guide, men will learn strategies for developing a strong case. The guide also explains a lot of the legal jargon in family law regarding custody, alimony, division of property, child support, the costs of divorce, and how long the process will take.
Also important to the site's revamp is information specific to Washington family law. Divorce Lawyers for Men empower men by educating them about the divorce, spousal support, parenting plans, child support and modifications.
In addition to valuable information, the website's web design has been updated to provide for easier navigation. Scrolling through pages and finding the links you need for the type of lawyer that you are looking for is now streamlined and highly visible for a more user-friendly experience.
Founded by trial lawyers with more than 35 years' worth of experience fighting successfully for men in divorce, Divorce Lawyers for Men has built a statewide network of family law attorneys with highly respected firms in Washington, specializing in representing men in divorce. It is the only network of its kind in the state.
Statistics show that women are overwhelmingly more likely to be awarded child custody by family courts . Even when men are awarded sole custody, women are often ordered to pay hundreds of dollars less each month in child support.
Divorce Lawyers for Men fights to change the paradigm for those men who do not want the end of their marriage to be the end of their parental rights. Divorce Lawyers for Men fight for fair child custody settlements, help develop parenting plans, argue for modifications to unreasonable support orders, and protect the parenting rights of men.
About Divorce Lawyers for Men
Divorce Lawyers for Men is a network of Washington based law firms dedicated to representing men going through divorce, fighting for custody, or looking for assistance with divorce modification. Founders Frank M. Morris and L. Jeanne Sockle worked for decades for the custody rights of men through the trial courts long before there were family courts to settle disputes. As skilled members of the Washington State Bar Association and numerous state and national legal organizations including the Washington Association for Justice and the American Association of Justice, Divorce Lawyers for Men have a long record of success settling cases and taking them all the way to trial on behalf of divorcing men and fathers.
For additional information please contact:
Frank Morris
(360) 866-7393
Lawyers(at)DivorceLawyersForMen(dot)com