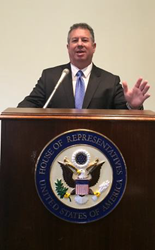 Undiagnosed Obstructive Sleep Apnea is a public safety issue affecting not only the health of patients themselves but the public at large as the effects of this illness contribute to industrial and transportation accidents.
Long Island, NY (PRWEB) January 12, 2017
Dr. Neal Seltzer was recently invited to be part of a panel of experts to appear before a caucus made up of members of congress as well as other representatives from government agencies and the military to address, "The National Crisis of Undiagnosed Dangers of Airway and Sleep Problems."
This panel included members of the American Sleep and Breathing Academy, the Pro Player Health Alliance and The Alpha Center of Washington DC.
One of only five dentists from around the country chosen to speak on the topic of oral appliance therapy and compliance monitoring, Dr. Seltzer was selected because of his extensive experience and expertise in this area. Others included celebrities from the NFL, airplane pilots, and the medical world.
So many lives are affected by sleep disordered breathing issues. The consequences of these problems not only cause life threatening issues for the individual but they have now become a public safety issue. The lack of restful sleep has become one of the leading causes of traffic related injuries and death as well as causes of train, plane, ferry, and shipping accidents. Furthermore, poor performance in schools and the workplace, industrial accidents, and safety in the military have also been attributed to poor sleep.
Dr. Neal Seltzer received his Doctor of Dental Medicine degree from the Tufts University School of Dental Medicine in 1982. He continued his education with a residency program in New York City at Bird S. Coler Memorial Hospital. After this, he continued his academic affiliation as an assistant clinical professor at New York University College of Dentistry. An expert in removable prosthetics, Dr. Seltzer is currently the clinical director of the Equipoise Dental Center in Bergenfield, New Jersey. He is a Diplomate of the American Board of Dental Sleep Medicine, Diplomate of the Academy of Clinical Sleep Disorders Disciplines, and a Diplomate of the American Sleep and Breathing Academy.
For more information about snoring, sleep apnea, oral appliance therapy, and Neal Seltzer, DMD please call Long Island Smile at 516-741-6202 or visit 101 Hillside Ave., Suite A, Williston Park, NY 11596.