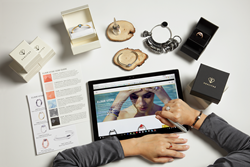 Become a curator of fashion jewelry, and gem connoisseur.
Palo Alto, CA (PRWEB) March 24, 2016
Dualitas is a premium jewelry brand founded in 2015 in Palo Alto, California. Born with the entrepreneurial and progressive spirit characteristic of the Silicon Valley, home to the most sophisticated and influential high-tech companies worldwide, Dualitas brings functionality, beauty and purpose to each collection, placing great importance on natural gemstones and materials.
This week, the jewelry brand launches their premium social commerce program the Dualitas Jewelry Independent Business Partnership Program.
"We've had many conversations throughout the months about how to break the glass ceiling and create a fashion community that welcomes partnerships of all types and that truly fosters fashion entrepreneurs such as ourselves. Our desire to offer beauty and function through conscious adornment naturally leant itself to our entrepreneurial efforts and became the foundation of our program," says Cynthia Solis, Chief Creative Officer and COO of Dualitas.
Embracing the technology and mobility we find useful in our every day lives, the Dualitas Partnership Program allows anyone the ability to begin a premium jewelry startup with just their mobile phone or tablet.
The program offers three Partnership StartUp Packages tailored to meet the demands of their Partners' desired level of commitment.
The initial launch of the program focuses on their most popular Elixir Vitae collection, based on Vedic Astrology and its ancient gemological healing practices. The collection is intentionally designed with natural and untreated stones to be in direct contact with the skin.
The Dualitas Influencer StartUp Package is inspired by the young Millennial who loves fashion and is interested in becoming a style authority through popular social media channels they are likely to already be engaged with like Facebook and Instagram. The entry level package starts at $228 and offers a 10mm Elixir Vitae ring and cuff in along with Dualitas gift packaging marketing tools.
The Dualitas Entrepreneurial StartUp Package allows individuals who are interested in fashion jewelry and want to start a part-time business on their own time. The mid-level package starts at $398 and offers a 10mm Elixir Vitae ring and cuff, 8mm and 12mm Elixir Vitae rings, Dualitas gift packaging and visual merchandising supplies along with marketing guides.
The Dualitas Executive StartUp Package is designed for individuals who are passionate about premium jewelry, and who want to build a larger custom jewelry business. The top level package starts at $748 and offers an 8mm Elixir Vitae ring, 10mm and 12mm Elixir Vitae rings and cuffs, and an Elixir Vitae cushion ring and cuff. Along with additional Dualitas gift packaging, visual merchandising supplies and marketing materials come personalized instruction via web conferencing from the Dualitas headquarters in Palo Alto.
Dualitas Partners also have a great opportunity to receive significant product discounts based on sales volumes and referrals as they build their own business through time.