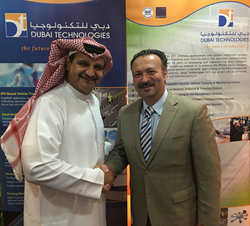 Dubai Technologies is the right partner with their time-tested and proven exposure both in hardware and software applications to integrate well with Transfinder's logistics and routing solutions.
Dubai, UAE & Schenectady, NY (PRWEB) May 02, 2016
Transfinder Corp., a global logistics software company, has formed a partnership with Dubai Technologies, the prominent ICT solutions development company in the United Arab Emirates (UAE), to serve new clients as it expands in the Middle East and North Africa (MENA) region. The two companies bring a combined 50 years of experience to the school transportation industry in the MENA region including Turkey.
The timing of the partnership is ideal as transportation providers are looking for safer, effective and efficient ways to operate within the new regulations adopted in the UAE that forbids students from being on school buses more than 60 minutes each way. In addition, new regulations also require larger buses to replace 14-seater buses which were deemed unsafe.
"We need local representation in Dubai and the surrounding region," said Antonio Civitella, Transfinder's president and CEO. "Dubai Technologies is the right partner with their time-tested and proven exposure both in hardware and software applications to integrate well with Transfinder's logistics and routing solutions. Now, with Dubai Technologies, we have a strong representation.
"As we grow globally, our association with Dubai Technologies will help us to penetrate within this potential market in the region" Civitella said.
Emphasizing the need for such a partnership, Ahmed Al Rafi, CEO of Dubai Technologies, said: "This venture with Transfinder is a step in the right direction for Dubai Technologies as we both share the same vision and aim of bringing a safer traveling environment to students not just in UAE, but all over the world. A partner like Transfinder would be instrumental in bringing our vision to reality because of the company's experience and exposure in this domain. We are bringing together the best partners to serve the region and foresee a significant growth in the domain."
Ali Moidu, COO of Dubai Technologies, said, "The two companies have similar cultures and vision where employees are the assets and customer service is the key objective."
Moidu noted that, until recently, the student location information was difficult to access. But with schools implementing GPS-based attendance systems, such information is easily accessible to all including parents.
"Once you start getting that information, the next question is how do we utilize it more effectively? Moreover it is crucial for transportation providers to get each aspect of the routing, planning and scheduling process right as larger buses are costlier to purchase and operate. That is where a technology that can utilize the information precisely and effectively help keep costs under control could be very beneficial," Moidu said.
Moidu added that with this new technology, the companies aim to educate parents on how to access the most comprehensive information about their child's bus at their fingertips.
The agreement reached today marks Transfinder's first international agreement with a regional player in Dubai.
"This is the next generation of our company," said Civitella, "Transfinder 2.0."
About Transfinder
Founded in 1988 and headquartered in Schenectady, New York, Transfinder is a national leader in intelligent transportation systems, providing transportation management systems and services to school districts and adult care facilities. Transfinder, an Inc. magazine "fastest-growing company" for the past nine straight years, has offices in Austin, Texas, and Shanghai, China and is headquartered in Schenectady, New York. The software company develops and supports routing and scheduling solutions for optimal transportation logistics. For more information, visit transfinder.com.
About Dubai Technologies
Dubai Technologies, based in Dubai, UAE, provides IT and business knowledge consulting, involving designing and developing solutions. Established in 1994, DT has come a long way to become the leading figure in Middle East's Urban Transit Technology market by enhancing existing technologies and researching new opportunities. Driven by its vision to create efficient and seamless business process solutions. The company holds a deep domain expertise in the Transportation and Service industry. Established in 1994, the company's core innovations lie in business process solutions, IoT, Smart City Projects, IT infrastructure integration, telematics, and M2M integration.