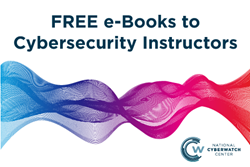 Largo, MD (PRWEB) April 19, 2016
Teach students the best with help from National CyberWatch Center. National CyberWatch Center can help educators get students further in the field of cybersecurity through the use of their newly released e-Books at no cost.
As the demand for qualified employees in cybersecurity jobs grows—there are an estimated one million job openings at the global level and expected to rise to 6 million by 2019— National CyberWatch Center works to update and create model Information Security curricula that supports the growth of cybersecurity education, including complete courses for degrees and certificates as well as e-Books.
National CyberWatch Center offers five technical courses most common in every degree and certificate. The e-Books for those courses include, "Introduction to Scripting," "Ethical Hacking and Systems Defense," "Networking Fundamentals," "Information Security Fundamentals," and "Linux Fundamentals." Each e-Book includes lecture slides, assessment questions, project answers, a syllabus, and instructor's guide. They can be used in conjunction with several NCC technical courses.
The content for four of these five e-Books map to professional certifications. These e-Books are written by both National CyberWatch Center and Jones Bartlett Learning. To request an access code, email info(at)nationalcyberwatch(dot)org. For more information, visit nationalcyberwatch.org/programs-resources/.
About National CyberWatch Center
National CyberWatch Center (NCC) is a National Science Foundation Advanced Technological Education-funded cybersecurity consortium working to advance cybersecurity education and strengthen the national workforce. Since 2005, National CyberWatch Center has played a key role in developing, promoting and providing cybersecurity education solutions nationally. To learn more, visit http://www.nationalcyberwatch.org.