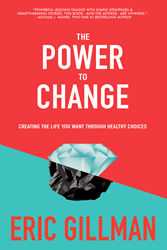 What might seem like an impossible dream is really just a big goal that needs to be written down and pursued on a daily basis.
San Diego, CA (PRWEB) May 31, 2016
Ten years ago, Eric Gillman was a hard-partying high school student whose brushes with law enforcement got him ousted from his expensive San Diego private school. Flash forward a decade: Gillman is a celebrated speaker, author and philanthropist who recently achieved hall of fame status for selling more than $1 million of Cutco Cutlery. He has detailed his journey from overweight troublemaker to record-setting professional and endurance athlete in his new book, "The Power to Change."
In it, Gillman describes how attending a Conference of Champions for Vector Marketing in 2007 helped him see sales as a lucrative profession and his ticket to better times. Vector Marketing is the sales and marketing of Cutco Cutlery, manufacturer of premium kitchen knives and other cutlery products. As Gillman was overhauling his professional life, he was also making physical changes. At Gillman's high point, the 5-foot, 7-inch teenager weighed 245 pounds and was miserably out of shape. Now he's an endurance athlete who has run marathons and competed in an Oceanside, California Ironman 70.3.
In his book, Gillman writes that the transformation came from a series of small, determined efforts. "I'm not anything incredible. I'm not a physician. I'm not a personal trainer. I'm just a guy who has been through some really hard times and turned things around," he said. "People always asked me what changed, so I wrote a book about it."
After joining Vector Marketing in 2007, Gillman enrolled in San Diego State University and later graduated with a bachelor's degree in communications. While in school he was a five-time All-American Scholarship winner for sales of Cutco Cutlery. In November of 2015, Gillman surpassed $1 million in career sales. He plans to ride his bike from San Diego to Las Vegas this fall for his formal induction into the Vector Marketing-Cutco Hall of Fame.
A committed philanthropist, Gillman has given more than $10,000 to the charity Angel Wings International through fundraising and personal donations. He raised $3,000 in 2015 running a Rock 'n' Roll Marathon. This year, he raised $1,200 doing a sparring exhibition with his best friend and fellow Cutco Hall of Fame salesman, TC Smith.
"Eric really has a sense about him when it comes to performance. He loves doing things that are abnormally challenging," said Smith. "It's inspiring to people."
Gillman said he hopes that his book will motivate others to make their own transformations.
"I want to show people that they are capable of changing in any area of life," said Gillman. "What might seem like an impossible dream is really just a big goal that needs to be written down and pursued on a daily basis."
About Vector Marketing:
Vector Marketing is the marketing and sales arm of Cutco Cutlery, a 65-year-old company with headquarters and manufacturing facilities in Olean, New York. Vector sells Cutco products through a national team of sales representatives primarily consisting of motivated college students who are trained to do in-home and virtual demonstrations on a pre-set basis. Vector Marketing has over 200 locations nationwide and works with students of all majors with any levels of professional experience.