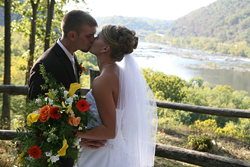 Celebrating culinary wedding destinations in VA and WV
Winchester, Virginia (PRWEB) August 31, 2016
For many millennium brides and grooms, the primary focus is the cuisine that showcases the local food grown and the wine, beer, and spirits crafted here in the Shenandoah Valley. Imagine a bride and groom standing on a mountain ledge looking out over a valley that is known for its leaf foliage change internationally – this is the Blue Ridge Shenandoah Valley from Shepherdstown, West Virginia to Harrisonburg, Virginia. The valley offers luxury country inns to newly restored historic hotels and manor houses, barns, wineries to wilder adventuresome venues. Plus there are farms, wineries, distilleries, and breweries around every corner. Here in the valley, guests can fly in using one of three international airports. With the GoBRT travel planning on-line guide, guests can plan their visit to Virginia and West Virginia's taking in leading culinary and outdoor adventure experiences as well as historical national parks showcasing the American Revolution and the Civil War.
GoBRT's top 2016 wedding culinary destination picks are:
Hillbrook Inn and Spa is a beautiful luxurious three home estate in Charles Town, West Virginia. Situated on George Washington's first land purchase in 1750, Hillbrook Inn evokes a warm, relaxing and inviting atmosphere for guests to enjoy. Chef Justin and the owners mission is to serve the best quality local food they can find.
L'Auberge Provencale is an award winning French Restaurant in historic Clarke County, Virginia offering luxury accommodations and two reception sites, the restaurant and the Villa La Campagnette. The inn and its lovely grounds with gardens, orchards, our sweeping porch and terrace provide an intimate country setting for your dream Virginia wedding.
Magnolia's at the Mill offers wine country catering at private unique locations in Loudoun County as well as the restaurant in Purcellville, Virginia. A founding partner of Taste of Blue Ridge, Chef Erik showcases quality seafood, premium beef, and local produce.
The George Washington Hotel is the host for the kick off of the fall wedding season. Go Blue Ridge Travel (GoBRT) and Blue Ridge Bride are throwing a party at the George Washington Hotel in Winchester, Virginia on September 11th. Tour this newly restored Grand Wyndham hotel, enjoying champagne and chocolate dipped strawberries as you tour the room suites, enjoy a spa treatment around the Roman Spa pool, then a formal tea in the Garden Room hosted by GoBRT where you will learn how to use the trip planning tool and share it with your guests making their visit to the valley easy. The George Washington and Martha Ballrooms will feature local vendors and other destination wedding venues.
Massanutten Resort is the fastest growing timeshare community in the United States. Just outside of Harrisonburg, Virginia, Massanutten puts you in the middle of the gap between two mountain ranges and offers a variety of accommodations. One's guests will easily enjoy a whole week of activities prior to attending the wedding. Executive Chef Michael at the Fareways Restaurant and Lounge features Southern cuisine with a today's twist.
Bryce Resort in Basye, Virginia is special if taking a chairlift to the top of a mountain ridge appeals for the ceremony. Although not for everyone, a better choice could not be made if one loves the Shenandoah Valley. Bryce Resort offers a true escape to an isolated mountain community. Surrounded by farms, wineries and breweries, plan on a weekend of local cuisine.
Piney Ridge Weddings sits on the Virginia mountain ridge overlooking the Potomac River in Harpers Ferry, West Virginia. Owned by HF Adventure, this setting is for the couple who wants the rustic setting of campgrounds and cabins. Plan a trip down the Potomac River for guests. Another venue for the special bride and groom where formality goes by the wayside and love of nature is first above all else.
MacKintosh Fruit Farm outside of Berryville, Virginia is the pick with food grown right there on this farm if one wants to just keep it simple and have a down home wedding experience. Bring out the mason jars, sunflowers, and good bluegrass music, then serve up a farm dinner to the guests.
Whether the bridal couple prefers casual or formal, understated or over the top, intimate and small or a gathering of many, these wedding culinary destinations offer selections of indoor and outdoor settings so one may customize the celebration to suit your dreams.
Go Blue Ridge Travel (GoBRT) is a Shenandoah Valley regional travel guide centered around six travel experiences. With an emphasis on multi-generational travel covered by the Kids Trail and a foodie escape with Taste of Blue Ridge, GoBRT combines Virginia and West Virginia's history, romance, outdoor adventure and the surprising sophistication of theater and the arts. GoBRT's mission is to create itinerary plans that drives visitors to full days visiting the partners who belong to their marketing community. Partnering with Blue Ridge Bride, GoBRT showcases wedding venues and produces two premier bridal shows for the Shenandoah Valley.
GoBRT covers the northern and central corridor of Interstate 81 including the Piedmont and Shenandoah Valley in VA and WV.
Founded and owned by Nancy Craun, Craun has 30 years of experience in the event planning, restaurant and hotel hospitality, and marketing arenas.
Contact: Nancy Craun, Owner and Founder of GoBlueRidgeTravel.com Phone: 540.533.1853 Email: nancy(at)GoBlueRidgeTravel(dot)com