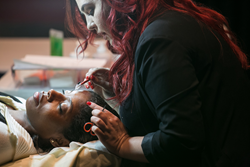 "Skincare specialists like myself have had limited options for advanced training or product expos," said Denise Zannu, of Atlanta. "I'm very excited to be part of the launch of Face & Body SE."
Atlanta, Georgia (PRWEB) September 30, 2016
As demand for skincare specialists grows rapidly in the US, up to as much as 12% by 2024 according to the Bureau of Labor Statistics, the need for professional training for estheticians and medical wellness professionals is increasing as well.
That's why Face & Body®, presented by trade publication Skin Inc. magazine and produced by Allured Business Media, is pleased to announce that it has added an advanced education conference and expo in Atlanta, Georgia to its portfolio of existing events in San Jose, CA, and Chicago, IL. Face & Body® Southeast takes place Oct. 15-17, 2016, at the Cobb Galleria Centre, striving to provide the highest quality education in the industry, which skin care, spa and wellness professionals can immediately implement in their businesses.
Georgia itself ranks high nationally in numbers of employed estheticians and is expected to keep pace or exceed national job growth projections in the fields of skincare, massage and wellness treatments.
"This growth, as well as great need for a top-quality education conference for professionals in the southeast, is why we chose to launch in Atlanta, where spas and services are plentiful, but access to professional education and networking has not been," said Sandy Chapin, Face & Body Shows Director for Allured, Inc. "Our goal is to educate as well as bring the spa and medical wellness communities together."
"Before Face & Body decided to come here, skincare specialists like myself had limited options outside Miami or the Midwest," said Denise Zannu, founder of Black Mermaid Bath & Body, who lives and works in a suburb of Atlanta. "I'm very excited to be part of this event."
Face & Body® Southeast's supplier Class opportunities include 70 expo exhibitors as well as 55 Advanced Education Conference classes such as Acne Management & Extraction; Ethnicity and Pigmentation; Essential Oils for Better Health; Natural Cosmeceuticals: and GMOs.
The event's keynote speaker is Atlantan Alison O'Neil, a career medical esthetician, aesthetic rehabilitation professional and founder of nonprofit Beauty Becomes You, which focuses on providing positive beauty and personal services experiences for seniors with limited access and incomes.
A two-day Expo on Sunday and Monday, Oct. 16-17 will showcase the region's and nation's latest skin and body products designed for spa owners or professional use. Four area beauty influencers will give consumers a peak at their favorites through social media posts including the hashtag #faceandbodyexpo.
"We are thrilled to come to Georgia," said Ms. Chapin. "While Georgia law only requires five hours of continuing education credits every two years for licensed estheticians and cosmetologists, the Georgia Board of Cosmetology recommends that working professionals exceed the minimum to stay current on trends. We see a need here, and we're happy to fill it with our well-regarded Advanced Education Conference program and to engage with skin, spa and wellness professionals in the southeast."
Advanced Education Conference attendees will find robust tracks, workshops and networking around the latest in best business practices, wellness offerings, ingredient science, chemical/mechanical exfoliation and the newest face and body treatments.
For more than 20 years, Face & Body has brought industry professionals a top-notch, product-neutral Advanced Education Conference program, numerous networking opportunities and a leading expo. This highly-regarded event is presented by the professional skin care industry's leading publication, Skin Inc. magazine.
Registration for the Face & Body Southeast Advance Education Conference is available online for $300 until October 14, with an onsite registration rate of $350. Those who want to attend the Expo only can get a discount price of only $25 for one or both days by including the code EXPO when registering at faceandbody.com/southeast. Parking at the Cobb Galleria Centre is free.