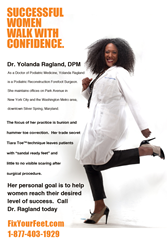 Some women wear flats all of the time. Others are in 6-inch heels non-stop. Both extremes cause foot problems. My desire is to be an advocate who will educate women as they find that happy medium
New York, NY (PRWEB) August 10, 2016
Dr. Yolanda Ragland is a New York podiatric surgeon who is enthusiastic about foot health. She is on a mission to educate women on the health and cosmetic challenges that occur with women's feet when deciding footwear.
Dr. Ragland launches her foot health awareness campaign, titled "Successful Women Walk with Confidence" to teach proper foot care to women. Her campaign exclaims that for many women, self confidences can come from how you feel about yourself and how you look in your shoes. She created Fix Your Feet® and developed a secret trademark Pediplasty technique called The Tiara Toe™. This procedure allows her patients to walk within hours of the procedure.
When asked about consulting VH1 reality television star Taranasha Wallace who is concerned about being able to participate in New York City Fashion Week festivities, the doctor responded saying, "personally, I understand women love wearing stylish heels. Many professionals have to wear trendy fashion footwear that may not necessarily be comfortable. With my skill set, recovery is speedy and return to shoes is likewise."
Dr. Ragland will be announcing shoe education events this fall. Dr Ragland will be offering some lucky women the chance to receive a complimentary need-based surgery. Details will be announced on her Facebook page, women who are interested are encouraged to like her page Facebook.com/FixYourFeet.
"Some women wear flats all of the time. Others are in 6-inch heels non-stop. Both extremes cause foot problems," says Dr. Ragland. "My desire is to be an advocate who will educate women as they find that happy medium."
My goal is to solve, not only pain, but also function caused by foot issues; Ragland explains during her recent radio interview. "I work with women to cure embarrassment, both medically and cosmetically, which is important to every woman's Lifestyle."
About
As a Doctor of Podiatric Medicine, Yolanda Ragland is a podiatric reconstruction forefoot surgeon. She maintains offices on Park Avenue in New York City and the Washington Metro area, downtown Silver Spring, Maryland. She is the first and only female podiatrist with a practice dedicated solely to bunion and hammertoe correction. She is a graduate of New York College of Podiatric Medicine. After completing a five-year Dermatology Fellow at the National Institutes of Health, she furthered her training by attaining a surgical certificate of training from an academic affiliate of Weil Medical College of Cornell University.