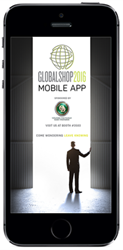 Columbia, MD (PRWEB) February 23, 2016
a2z, Inc. is pleased to announce that Emerald Expositions will be utilizing two powerful and innovative technology solutions to offer networking, matchmaking, event promotion, time saving and planning tools to attendees and exhibitors for GlobalShop 2016—which is the world's largest annual show for retail design and shopper marketing—featuring the industry's most comprehensive array of store fixturing companies and in-store solutions. The show will be taking place March 23-25, 2016 at Mandalay Bay in Las Vegas, NV. GlobalShop 2016 offers insightful educational sessions led by today's retail industry thought leaders and exclusive networking opportunities with 14,000+ industry professionals.
Connect™ is an online networking and matchmaking solution that is an integral part of GlobalShop 2016. Attendees have the ability to build a personalized show planner, consisting of their favorite exhibitors, exhibitor meetings and show sessions. Connect also provides exhibitors the opportunity to create an online eBooth to showcase their latest products and services to attendees before they travel to the show. In addition, each exhibitor is matched with registered attendees who indicate interest in the product categories associated with its company profile. Exhibitors can connect with attendees via direct emails.
In addition, Emerald Expositions is utilizing the ChirpE Mobile App solution to enhance the event participant experience. When attendees download the mobile app, they will see many features designed to help them be more productive at GlobalShop 2016. All selections made in Connect will be accessible from the event app, along with real-time alerts, local information and social media. Exhibitors will also be able to log in to the exhibitor portal from their mobile devices in order to access their event information or to make any necessary changes. The Global Shop 2016 Mobile App is available for iOS and Android devices, as well as all internet-enabled smartphones.
To learn more about GlobalShop 2016, please visit http://www.globalshop.org.
About a2z
a2z provides powerful cloud-based event management and marketing tools that grow your brand by accelerating booth sales, helping boost revenue, and enhancing engagement and value for event participants. a2z's solutions are used by 1000+ leading trade shows and conferences across the globe every year. More than 45% of the TSNN Top 50 as well as the TSE Fastest 50 Events leverage a2z's web and mobile solutions. In addition, 44% of shows on the TSNN Top 250 list are managed using our solutions.
About Emerald Expositions
Emerald Expositions is a leading operator of large business-to-business trade shows in the United States, producing more than 50 trade shows and over 100 face-to-face events in total, including conferences, summits and other events. The Company connects more than 335,000 sellers and buyers each year and operates within the U.S. in 10 end markets (Gift, Home, General Merchandise and Manufacturing; Sports & Apparel; Design; Jewelry, Luxury & Antiques; E-Commerce; Creative Services; Licensing; Healthcare; Military; and Food). The Company's shows are typically the most prominent and important for exhibitors and attendees within their various industries.