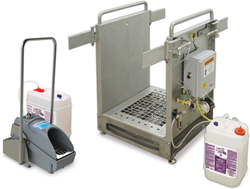 This is a significant step forward for food processors.
Nevada City, CA. (PRWEB) March 03, 2016
You might not know it, but employee footwear can be a serious source of cross-contamination in food processing facilities. The CDC states, "Contamination can occur at any point along the chain—during production, processing, distribution or preparation." Making it that much more important to sanitize footwear throughout the entire food production chain.
Traditional footwear sanitizing methods have generally been limited to: Foot Baths (a bath or shallow pool of liquid chemical sanitizer that the employee steps into), Chemical Floor Foamers (systems that spray sanitizer foam onto the floor as employees walk through it), and Hand Spraying (employees expose the sole of their boot or shoe as another employee sprays the bottom with liquid sanitizer). Each of these methods has its drawbacks. Foot baths lose efficacy and harbor contaminants as more employees step into it, resulting in extra time and labor to ensure the level of diluted sanitizer does not fall below effective levels. Chemical floor foamers also lose effectiveness with each employee use, and can be stepped over and missed all together. Both of these methods are messy and can introduce unwanted moisture into the processing environment. Hand spraying is not as messy, but it is very time consuming and inconsistent in its delivery.
Enter Best Sanitizers, Inc. and a new generation of footwear sanitizing stations: The HACCP™ SmartStep and HACCP™ Defender. The HACCP Defender and HACCP SmartStep Footwear Sanitizing Stations use compressed air to deliver a controlled spray of Alpet® D2 to footwear soles. Each worker receives a fresh application of Alpet D2 for consistent, measurable results every time. Alpet D2 is a ready-to-use, no-rinse, alcohol/quat sanitizer for food contact surfaces and disinfectant for use on non-food contact surfaces.
The HACCP SmartStep has a compact footprint (10"W x 21.5"L x 17"H) and can go practically anywhere in the food processing facility. This foot-operated unit uses just 0.2 ounces of Alpet D2 Surface Sanitizer per foot, which delivers the appropriate quantity of product, minimizes chemical waste and helps to control moisture, yet provides ample coverage to footwear soles. Multiple units can be placed throughout the plant wherever pathogen reduction from footwear is needed, and with the optional handle and boot scrubber, the HACCP SmartStep System can be tailored to meet a facility's specific needs.
The HACCP SmartStep's bigger brother is the HACCP Defender. The HACCP Defender is an automatic, walk-though footwear sanitizing station. Its one-way, pass-through design supports traffic flow and improves pathogen reduction in critical areas of the facility. As an employee steps into the station, an infrared sensor closes the four pneumatic doors and delivers a carefully calibrated spray of Alpet® D2 to the bottom of the worker's boots. This spray provides the proper quantity of Alpet D2 to footwear, yet reduces chemical waste and improves moisture control. This delivery method, combined with Alpet D2's highly evaporative properties, creates an effective solution for food processing plants where reducing pathogens and controlling moisture is critical.
The unit is constructed in the USA from 304 stainless steel and high quality components. Output from the six spray nozzles is adjustable allowing users to optimize chemical volume and performance of the system. The HACCP Defender measures 36"W x 38"L x 45"H. Set up is easy and requires standard power and access to compressed air. Adding a floor mat with one of Best Sanitizers' Dry Step Floor Treatments provides a sure-footed surface for exiting the sanitizing station.
Alpet D2 is a ready-to-use, no-rinse, alcohol/quat sanitizer for food contact surfaces and disinfectant for non-food contact surfaces. Alpet D2 is highly evaporative and non-corrosive, making it ideal for water sensitive equipment and low-moisture environments. It is delivered to the HACCP SmartStep and HACCP Defender through a carefully engineered system to reduce the possibility of cross-contamination.
"This is a significant step forward for food processors looking for an added measure of pathogen reduction. Especially those processors concerned about moisture control," said Ryan Witt, Best Sanitizers' Vice President of Sales and Marketing. Food processing facilities can use either unit individually or in combination to maximize pathogen protection throughout their facility.
Best Sanitizers also offers a complete line of hand soaps and hand sanitizers, dispensers, surface sanitizers, surface sanitizing wipes, industrial cleaners, and related accessories.
For more information on Best Sanitizers products, please visit: http://www.bestsanitizers.com
About Best Sanitizers, Inc.:
Established in 1995, Best Sanitizers, Inc. has been providing the Food Processing, Janitorial Sanitation and Healthcare industries with the highest quality hand soaps, hand sanitizers, surface sanitizers, industrial cleaners and dispensing options available. These products are used in over 8,000 U.S. food processing facilities. Best Sanitizers was the first company to achieve an E3 rating for an alcohol-based hand sanitizer and the first to achieve a D2 rating for an alcohol/quat-based surface sanitizer for food contact surfaces.