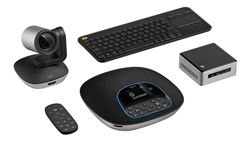 collaboration productivity gains up to 20-40% and cost savings up to 70% or more
Sydney, NSW, Australia (PRWEB) September 22, 2016
Holistic's Zoom online video meeting software has been developed so all meetings simply work, every time. Holistic's Zoom meetings is the first software defined video conferencing (SDVC) Architecture and is hardware agnostic. Designed with all the latest codecs, adaptive voice, dynamic bandwidth control, it is built to manage any meeting so all participants get the same experience. This ranges from webinars with 10,000 participants or a 1-on-1-person meeting. People can run business meetings on any device, mobiles, tablets, desktop, laptops, invite others who have H.323 / SIP video conference rooms to any meeting, invite Zoom rooms (zoom 1 click entry video conferencing rooms). Staff can even invite Skype for business users into your web conferencing natively, another revolutionary feature.
There is no need to have multiple systems working in isolation or which have been glued together to cover all organisational needs. Often organisations will have an audio conference provider with expensive rates, an instant messaging solution for internal, a virtual business meeting platform for external meetings, and a video conferencing provider for immersive video face to face discussion from office to office, especially in board rooms. This all adds up to an expensive and more complex technology set for IT teams to manage. Industry finds organisations require scalability and a solution to match their long term strategy around UC(desktop, smartphone, audio conferencing & room base conferencing).
Organisations can now have it all in one platform and have fantastic seamless meetings within ones internal network and at the same time extend these quality high definition video conferences to all external off network meetings to anyone in the world, for any number of participants. The adaptive voice enables better calls in many cases than traditional phone calls. Provide company remote workers and work from home teams with the tools they need to perform their tasks with no degradation in the services they receive. Logitech Group's new hardware has made it possible for anyone to have high definition immersive meetings from anywhere providing the highest quality video and audio at the most affordable price, .
In introducing this revolutionary business communications platform into the Asia Pacific Marketplace, Mr. Bartlett, Director at Holistic Communication says: "It has never been a more exciting time to be involved in unified communications technology for video conferencing software and collaborative solutions when it comes to Zoom meetings and Logitech video conferencing hardware. When one combines both the Zoom cloud or hybrid on premises communications platform and the NEW Logitech Group NUC designed with Intel, there is no other solution which can deliver the quality video, audio and screen share for immersive video conferencing at a reduction of up to 70% on current costs. As well IT teams can leverage current investments in hardware as Zoom is hardware agnostic. I have been in Senior IT Executive roles, reporting to boards and nothing I have implemented has had the same impact on organisations and so easy for users."
Logitech Group's, Regional Product Manager for video conferencing, Nelson Paddila added, "With the entry point for high quality, high definition video cameras and the NEW Video Conference NUC, Logitech's equipment revolutionizes the way global workforces of major corporations and small businesses meet the growing demand for collaborating with colleagues, clients and business partners." He added, "The video conferencing market is growing rapidly, and the new solutions mean anyone can now afford high definition online web meetings and video conferencing at up to 70% savings on traditional Legacy providers."
The NEW Logitech NUC will transform the room-based video conferencing, providing all organisations with the highest quality hardware designed specifically for video conferencing and is 70% cheaper than anything which has previously been available. The Logitech Group Connect range complements businesses online meetings strategy for small meetings of 2-5 people in huddle rooms, is wireless compatible and has up to 3 hours battery life and can be taken anywhere. Audio conferencing calls can use the headset range now designed for call centers with noise cancelling and lights for when active as a visual aid.
Highlights of Zoom meetings video conferencing system for collaboration on all devices available from Holistic Communications include:

Share Youtube videos, promotional videos on websites or training videos with sound (revolutionary to Zoom).
Free dial-in audio conferencing from over 65 countries.
No cable required for Conference rooms
Instant messaging and group chat (searchable & persistent chat)
Reduce company travel costs but not team or client face time.
Annotate from smart phones and tablets.
Enhances negotiation power of the sales team the rich virtual meetings.
1 click entry to meetings in room or from devices
Secure meetings and conferences & data loss prevention options
Delivers the best user experience proven with the latest NPS score of 94.
Backed with 24/7/365 customer support.
Real-time IT dashboard to monitor and support staff live in meetings or webinars.
Instant messaging and group chat with searchable persistent change and searchable content.
Breakout rooms for up to 50 rooms.
About Holistic Communications:
Holistic Communications Pty Ltd was established to provide businesses, enterprises, government entities and not for profit organizations with the highest quality unified communications platform for quality audio, video and screen share which works every time. Holistic Communications deploys Zoom cloud meetings, the #1 & fastest growing cloud meeting provider globally and Logitech Group's video conferencing equipment for high definition immersive video.
Our specialized team of technology consultants at Holistic Communications helps organizations by providing solutions which address business communication requirements.Assist organizations to gain competitive advantages and efficiency in the sales discussions, project collaboration, business partner meetings (virtual meetings, video meetings, online meetings, audio conference calls, training sessions, webinars, town hall meetings and company announcements) and have the best user experience as if people are their face to face.
Our team can assist in designing and leveraging current investments in video conferencing hardware and get your organisation in the direction needed to provide these solutions to all employees in the most affordable way possible without giving away any features or quality. To find out more visit http://www.hc.services