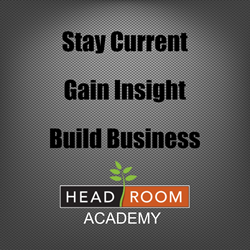 "Programs were developed out of work done with over 100 small businesses and startups. You can count on it being relevant and actionable." says John Tooher, Co-Partner at HeadRoom.
Wayne, Pennsylvania (PRWEB) April 05, 2016
At some point, your Mom or someone important in your life, advised to 'stay in school to get ahead.' HeadRoom could not agree more and at the recent HeadRoom Entrepreneur Boot Camp, 27 participating small business leaders agreed. It is not unusual to see corporate leaders enhancing their knowledge and networks by participating in executive education programs. In fact, many of our local Universities offer an extensive curriculum for leaders and executives. HeadRoom Co-Partners, Dan Lievens and John Tooher, have an interesting perspective on how continuous learning and effective networking can translate in a relevant way to small business leaders. They created the Entrepreneurs Boot Camp to test the concept and gain feedback from participants. They did not have to wait for the program to begin to get their feedback. Enrollment exceeded expectation. Post Boot Camp survey responses indicate that the content was on-point and that small business leaders appreciated the attention to relevant material, an opportunity to test ideas, and effort to facilitate collaboration. The success of the Entrepreneurs Boot Camp and feedback from participants fast-tracked the launch of HeadRoom Academy which will welcome its first class on April 15, 2016.
Traditional executive education takes academic theory and practical experience to deliver in-depth learning laboratories for business leaders. Dan and John saw a gap between what is offered to corporate leaders and the learning opportunities available to small business leaders. Often the cost and time commitment of executive education programs are prohibitive for the small business leader. At the same time, some workshops and webinar content targeted to small business leaders fails to translate business challenges, techniques and tools in a relevant way to the unique concerns of a small business.
John Tooher, Co-Partner at HeadRoom describes, "We curated content that addresses the most important concerns and latest techniques used to build a successful business. We recruited some of the best subject matter experts in each area who are serving small and medium sized business clients. Our instructors appreciate the unique challenges of their audience. They developed a program in their respective specialty that will be meaningful to small businesses and guide action items for participants. They present tips and techniques so that our students walk away with more than a surface knowledge; they can actually implement changes in their business."
The HeadRoom Academy calendar provides participants an opportunity to explore topics including developing business strategies, trademark issues, business liabilities and regulations, leadership in a dynamic environment, planning marketing programs, social media techniques, using public relations, web and app development, financial planning, book keeping, and much more. Programs will be offered in two-hour working session over an eight-week cycle peppered throughout the year. Sessions will be held both in the morning and afternoon on Academy days, in addition topics will reappear several times within the academic calendar. Small business leaders can participate in as many or few sessions as they like or need. This was specifically designed to accommodate a startup and small business person's need for flexible time management.
In addition to instructional programs, HeadRoom Academy purposefully provides opportunities for leaders to network. Dan Lievens, Co-Partner at HeadRoom understands "it is what you know AND who you know. Today's most successful businesses get ahead by putting together a strong team. That team may be internal or a network of external partners for collaboration, lead sharing, and mentoring. It is difficult for a startup or small business leader to take time away from their business or to get an evening to network. HeadRoom Academy provides a safe environment to stay current, gain insights and build business opportunities over a one-year academic calendar. "
HeadRoom Academy offers all participants and opportunity to network with fellow participants and business within the HeadRoom co-working space. At the end of each Academy day, all HeadRoom Academy members are invited to attend the HeadRoom Resident Happy Hour. These happy hours have been very effective for HeadRoom Residents in finding collaboration and knowledge sharing opportunities. HeadRoom Academy members immediately extend their network to the 70+ businesses within the HeadRoom eco-system. The cost to participate in HeadRoom Academy is very affordable. An early adopter rate of $345 for the year is available for a limited time; the regular annual rate is $445 for a full year of programs. If a participant prefers to break payments down, a monthly payment plan of $40/month is available.
HeadRoom is a premium co-working space with locations in Media and Wayne, PA. With almost two years focused on the unique needs of startups and small business, HeadRoom created programs and events that can propel successful development of businesses. In 2015, HeadRoom presented the first Philly Tech Week venue in the suburbs, hosted a startup Innovator of the Year competition that awarded a $5,000 grant, became the Delaware County host for the North American Women in Business Owners (NAWBO) Power Fridays, and numerous workshops that empower startups and small business to develop strategy, collaboration and growth. John Tooher adds "We tested the HeadRoom Academy concept with a market test that we called Entrepreneurs Boot Camp. The response from small business owners and leaders thinking about starting a business was overwhelming. We hoped to have 15-20 participants. We had to cap participation at 27. Using a post-program survey, we measured 88% who were very satisfied with the content and relevancy of the content. In addition, 80% of the Boot Campers participated in a HeadRoom Happy Hour to take advantage of additional networking and follow-up opportunities."
For additional details and registration process, visit https://headroom.net/academy/
# # #
HeadRoom exists at the intersection of premium office space, business collaborations and meaningful strategic planning for startups and small businesses. With convenient locations in Media, PA and Wayne, PA, HeadRoom provides unique advantages for suburban co-working. The HeadRoom team leverages their broad knowledge in business startups, strategic planning and their network of resources to help propel startups and small business forward. HeadRoom affords a business owner the opportunity to gain support working on their business while they are busy working in their business. For more information, visit http://www.HeadRoom.net and http://www.headroom.net/Strategy
Dan Lievens, HeadRoom Co-Founder. Dan is a Business and Technology Consultant with 20 years of hands-on experience with early stage companies. Dan is known as an expert at bringing business and technical worlds together in a variety of industries including telecommunications, legal, restaurants, retail, real estate and health and wellness. Some of Dan's contributions include a wide industry experience in online e-commerce, start-ups, information technology, software and database development and is well-known for his rapid and strategic execution. His advice was recently highlighted in a Forbes piece, onforb.es/1nnpA1C . With a broad understanding of technology and business, Dan has assisted many early and mid-stage companies in analyzing business demands and providing solutions based on clear market drivers to help taking them to the next level. Dan is fluent in Mandarin Chinese, French, Dutch and English and has an MBA from Pennsylvania State University with an undergraduate degree in Business.
John Tooher, Co-Founder. John joined HeadRoom after 10 years as President and General Manager of YellAdworks Inc. based in KOP, PA, where he lead a 3,000-person global operation engaged in the production of print and online advertising solutions. With multiple sites in the US, UK, India and the Philippines. John gained considerable experience in the challenges of nurturing a workforce participating in a 24/7 global production workflow. John also worked for 3M where he held various senior technical and manufacturing management roles. John holds a B.Sc. in Science from the National University of Ireland and a M.Sc. in Mechanical Engineering from Trinity College in Dublin. Mr. Tooher and his wife Kirsten have two children and enjoy living in the beautiful Chester County, Pennsylvania countryside.