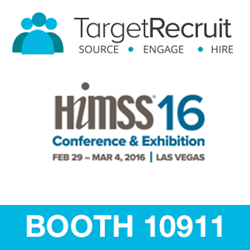 We look forward to exhibiting our complete digital suite of healthcare staffing features to those who advocate for a digital future in the healthcare industry.
San Francisco, CA (PRWEB) February 26, 2016
TargetRecruit, the global leader of staffing and recruitment solutions on one end-to-end cloud platform, earlier this month announced its latest product enhancement for healthcare staffing. Today, it announces its debut at the 2016 HIMSS Annual Conference & Exhibition, February 29 - March 4, 2016 in Las Vegas, booth 10911. TargetRecruit's ecosystem of staffing applications extends beyond the general staffing functionalities to fully support and partner with healthcare staffing and recruiting firms.
To address the most current healthcare staffing challenges, organizations are investing in digital operations to connect people, workflows and systems in one digital solution. This is where TargetRecruit's Healthcare cloud platform will help transform recruiting and retention. With this digital shift in mind, the TargetRecruit Healthcare cloud platform is showcasing its complete digital suite of healthcare staffing features at HIMSS 16, booth 10911. HIMSS brings together 40,000+ health IT professionals, clinicians, executives and vendors from around the world. Exceptional education, world-class speakers, cutting-edge health IT products and powerful networking are hallmarks of this industry-leading conference. More than 300 education programs feature keynotes, thought leader sessions, roundtable discussions and e-sessions, plus pre-conference symposia and workshops.
"Although this may be our first time exhibiting at the HIMSS annual conference, we're excited to be a first-time exhibitor immediately following the October 2015 TargetRecruit Healthcare platform release," says Founder and CEO of TargetRecruit, Reena Gupta. "While continue to help transform operations and recruiting in the healthcare industry, we look forward to exhibiting our complete digital suite of healthcare staffing features to those who advocate for a digital future in healthcare."
HIMSS offers a great foundation for TargetRecruit to connect and network with industry thought leaders and influencers alike. The HIMSS conference is focused on the future of digital health, which mirrors TargetRecruit's Healthcare platform to offer a fully digital platform. Investing completely in one digital platform allows staffing firms to automate and streamline their hiring processes, while improving engagement, retention productivity and compliance.
TargetRecruit's ecosystem enables staffing and recruiting employees to execute their core activities efficiently. The platform also allows key stakeholders to discover insights from a results-driven approach that integrates and impacts business operations, from marketing to accounting. You can learn more about TargetRecruit's extended solution for healthcare staffing and recruiting by visiting http://www.targetrecruit.net/healthcare.
About TargetRecruit
Since its inception in 2008, TargetRecruit is the global leader of staffing and recruitment solutions, providing an end-to-end cloud platform that is completely mobile and fully integrated to partner with staffing and recruiting firms on nearly every continent. Built on the Force.com platform, TargetRecruit is the most highly recommended recruiting application on Salesforce's marketplace, AppExchange, and provides real-time business metrics, flexibility, mobility and ease of customization. As a result, firms have the ability to make proactive, data-driven decisions in real time. The company is headquartered in Nashville, Tennessee, with global centers in Los Angeles, California.; Silicon Valley, California.; Bangalore, India; and Minsk, Belarus.
For more on TargetRecruit, visit http://www.targetrecruit.net