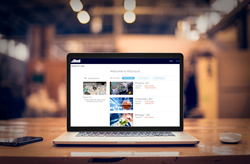 This is the first educational tool ever developed to facilitate the instructors' experience. We are proud to offer a platform that gives educators the greatest possible gift: time.
Denver, Colorado (PRWEB) November 08, 2016
Hands-On Learning today introduced HOLcloud, the first web-enabled educational platform designed to reduce instructors' workload while increasing the effectiveness of instruction. HOLcloud offers interactive educational content, full web ADA compliance, and seamless collaboration between a school's Learning Management System (LMS), students, professors, and content using LMS Connect. HOLcloud gives instructors' access to the modern tools required to easily, intuitively, and effortlessly provide the best online educational experience to their students. HOLcloud comes with instructor selectable features such as a student dashboard, analytic tools, automatic grading, single sign-on, interactive assessments, and many other unique tools that will reduce the educator's time spent on non-teaching activities. HOLcloud and all of its features are available now for classes starting in January 2017.
"HOL is changing the way online education is conceived, consumed and taught throughout the world," said Kevin Melendy, CEO. "HOLcloud allows an entirely new way of delivering content online in a more conducive, intuitive, and engaging way than ever before. This is the first educational tool ever developed to facilitate the instructors' experience. We are proud to offer a platform that gives educators the greatest possible gift: time. With these tools readily available, instructors can now spend their time conducting their class versus getting bogged down with mundane and repetitive tasks."
HOLcloud utilizes a simple, user-friendly interface that allows instructors and students to easily access and navigate the content. HOLcloud' s multitude of features such as auto grading reduce instructor time spent on busy work so they can better facilitate their course. Built-in analytical tools help instructors to easily offer early intervention when remediation is needed. Authoring capabilities will give instructors control over the content. Built-in videos and interactive assessments promote student engagement and consequently increase retention.
HOLcloud complements all Hands-On Labs' products to provide an all-in-one solution. Hands-On Labs has been providing the most advanced laboratory kits for distance learning in higher education for over 20 years. With the introduction of HOLcloud, institutions all over the world are going to be able to use Hands-On Labs content with ease of delivery and instruction. HOLcloud allows instructors to teach and students to learn anytime, anywhere, on any web-enabled device.
The HOLcloud platform has been designed with all institutional needs in mind. It is the only interactive digital learning platform that provides WCAG 2.0 AA compliance. HOLcloud allows institutions to utilize Hands-On Labs content in full compliance with the Americans with Disabilities Act Federal Regulations.
To learn more about HOLcloud and to schedule a demo please visit http://www.HOLscience.com/HOLcloud.
Hands-On Learning is the world leader in science distance learning. HOL pioneered the way education is conceived and delivered around the world, regardless of location, time zone, or device. Hands-On Labs is a division of Hands-On Learning and produces online science lab kits that include modern pedagogy, cloud-based learning platforms, and hands-on lab experiments that mirror the classroom laboratory. HOLcloud provides the interactive, cloud-based platform needed to deliver this content, anytime, anywhere, and on any device.