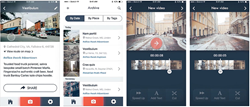 Support How2Get.pro project on fundable.com!
Redmond, WA (PRWEB) September 08, 2016
Kilograpp.com ® today unveiled an all-new How2Get application development delivering the best directions aiding experience on any mobile device. Available with iOS 9 coming spring for iPhone®, iPad® and Android, application combines the visually rich layout of traveled route with directions and customization of digital media. Recordings can be easily shared or saved for later — without compromising your privacy. Service is powered by the custom-designed interface that allows clients to use their own existing GIS data. Target markets include travel reservation companies, utilities, infrastructure management or field services providers who need an evidence of assets verification combined with Geo Tagging.
How2Get format allows publishers to run system in the cloud minimizing infrastructure and maintenance costs. Content can include photos, audio, video, maps and animation.
"Premium content deserves a premium mobile experience and the How2Get app delivers that," said Sergey Morozov, CEO of How2Get. "How2Get offers a viable solution to businesses from less than prime locations to stimulate traffic and to field service companies to increase productivity with modest investment."
Organizations interested in customized implementations can visit http://www.how2get.pro. Deep discounts available now to early adapters at http://www.fundable.com/how2get
Features are subject to change. Some features may not be available in all regions or all languages.