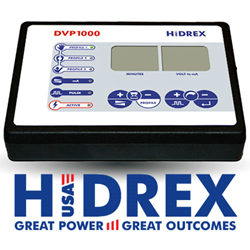 There are so many others that don't know there is a treatment for them, or that are not happy with the other treatment options available.
Sugarland, TX (PRWEB) January 12, 2016
On January 1, 2016, Hidrex USA celebrated their official one-year anniversary. In January of 2015, the company began providing tap water iontophoresis, or TWI, to customers suffering from excessive sweating, clinically known as hyperhidrosis.
Although Hidrex USA has made great strides in spreading information to those suffering from excessive sweating, it is still a largely underdiagnosed medical condition. Many sufferers often fail to realize that they are suffering from hyperhidrosis at all, and Hidrex USA hopes to continue spreading education and awareness of this medical condition that affects almost 3% of the population.
To celebrate their one year anniversary and initial success, Chris Ligi, Hidrex USA's director of sales, says the company is offering an online coupon for the month of January that provides a 10% discount on all tap water iontophoresis medical devices. To receive the discount, customers can use the promo code "SM10" through the company's online store.
While these devices are commonly used as hyperhidrosis treatments in Europe and other regions, tap water iontophoresis is less widely used in the United States. However, this is slowly changing, thanks in part to the efforts of Hidrex USA.
"In our first year of operation, we are proud to have helped hundreds of hyperhidrosis sufferers with their condition," said Ligi. "There are so many others that don't know there is a treatment for them, or that are not happy with the other treatment options available. We look forward to giving them a better, safer, and more cost effective solution."
Tap water iontophoresis treatments involve a mild electrical current that runs through water. This painless, surgery-free procedure blocks the sweat ducts in the palms, feet, underarms, and other sweat-prone areas of the body. Patients can either receive treatments at a medical office or purchase the device themselves after receiving a prescription.
The devices are FDA approved and one of the most common treatments for hyperhidrosis worldwide, yet remain little known in the United States.
In 2015, Hidrex USA adopted a two-part strategy for raising awareness of both hyperhidrosis and tap water iontophoresis devices. To educate consumers about this treatment, the company reached out to consumers through online marketing efforts, while also demonstrating these medical products to physicians and other healthcare professionals through medical conferences, meetings and tradeshows. Ligi said the company will further expand their clinical outreach in 2016.
Ligi added, "We are also excited to have created much more awareness of hyperhidrosis, as well as highlight Hidrex USA's cost-effective, surgery-free and drug-free approach to treating this prevalent condition."
About Hidrex USA
Hidrex USA, LLC has partnered with Hidrex GmbH to bring hyperhidrosis healthcare solutions to North, South, and Central America. Their Iontophoresis products are FDA approved. To learn more about what they have to offer, visit hidrexusa.com.