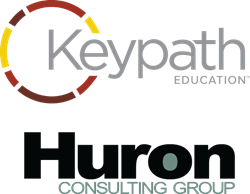 We believe this solution can help schools get more from their program investments, identify gaps and map a way forward. Peter Stokes, managing director at Huron Consulting Group
CHICAGO, Ill. (PRWEB) June 05, 2016
Career preparation has been the primary driver of college students' enrollment decisions since 2013. To help higher education institutions apply their resources to high-impact career preparation strategies, Keypath Education and Huron Consulting Group have introduced a Student Lifecycle Career Diagnostic and Survey.
Through this joint offering, Keypath and Huron will evaluate an institution's practices and strategies against industry standards and apply the proprietary knowledge both companies have developed through their work for institutions in the areas of program management, marketing and career engagement. Keypath and Huron will provide institutions industry best practices and conduct proprietary surveys with students and alumni to better understand perceptions of the institutions' career strategies. The end results give leaders actionable programs to maximize career ROI for students.
In addition to four years of direct experience in career engagement through Seelio, Keypath Education brings a history of conducting over 100 online institutional reviews to help institutions launch thriving online programs. Huron has advised more than 95 of the nation's top 100 research universities in improving their performance.
"We see many institutions shifting to increase focus on student outcomes and career preparation, but they do not know their gaps," said Steve Fireng, CEO of Keypath Education. "Our perspective is that a critical first step in that process is to truly understand the lay of the land. This solution will help schools get that viewpoint along with recommendations about how to improve the career ROI for their students."
Respected leaders in career preparation have concluded that the future of career preparation will look very different than it does today. Institutions need expert guidance in evaluating current practices to understand how they can unify their departments to help prepare students for success after graduation.
"Most college and university leaders know they're doing something right when it comes to their graduates' college-to-career transition, but lack the metrics to know which programs and services are having the greatest or least impact. As a result, it's difficult for students to move among organizational silos — from first-year experience programs to academic advising to career services — in an effective way," said Peter Stokes, managing director at Huron Consulting Group. "We believe this diagnostic and survey solution can help schools get more from their program investments, identify gaps and map a way forward to a stronger career preparation offering."
To learn more about this joint diagnostic and survey offering, please visit info.seelio.com/diagnostic.
For more information, please contact Chris Williams, director of marketing, at chris.williams(at)keypathedu(dot)com or 913.254.6771.
About Keypath Education
Keypath Education provides solutions across the student journey, including online program management, enrollment marketing and career preparation. In the ever-evolving world of higher education, Keypath leverages data and proprietary technology, like Seelio, to innovate every aspect of the student experience. As a result, its partner schools are better able to attract, connect with and graduate the world's most prepared students. Learn more at keypathedu.com.
About Huron Education
Huron Education is the premier provider serving the unique needs of the higher education industry. Our team of professionals, each with extensive knowledge and experience in the business of higher education and academic medical centers, delivers comprehensive services to the industry and partners with institutions to improve business performance across the enterprise. Our professionals draw from their experience working in the strategic, financial, operational, technology, and regulatory aspects of higher education to provide the most effective consulting and software solutions. Huron Education has helped more than 95 of the nation's top 100 research universities improve their performance so they can continue their traditions of extraordinary achievement. Learn more at http://www.huronconsultinggroup.com/highereducation or follow us on Twitter: @Huron.