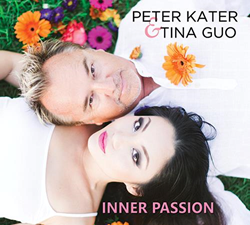 A completely raw experience of two creative souls coming together for the first time, unprepared and transparent, sharing from deep within their very own inner passion.
Los Angeles, CA (PRWEB) March 11, 2016
Enthusiastic audiences and brisk CD sales surrounding the INNER PASSION Record Release Tour boosted first-time collaborators Peter Kater and Tina Guo into the #4 spot this week on the Billboard New Age Chart
with their new album INNER PASSION (Hearts of Space Records, 2016), which captures their first-time playing together, entirely improvised; the album was recorded and filmed live in studio. The duo will perform the final concert of their tour this Saturday March 12 at 8 pm at The Marin School in San Rafael; tickets are available through Brightstar Events.
"Peter has such magical abilities with the 88 keys on a piano to let you relax and enjoy some elegant music. Tina is exquisite in herself and when you hear her bow across the strings, all of the sudden this could become your favorite musical instrument," according to a review in The Examiner.
While Kater and Guo's live improvisations together on the tour are being called "mesmerizing" and "transformational" both artists also perform solo work from their respective music repertoires. During their recent GRAMMY® Museum concert in the Clive Davis Theater, Kater played the songs "Two of Us" as well as "Passion" from LOVE, which is his 11th Grammy-nominated album (Mysterium Music, 2015) while Guo shared "Prelude from Suite 1" by Johann Sebastian Bach and an original solo piece that she created for Michael Jackson THE IMMORTAL World Tour. The Grammy Museum concert was presented by Mysterium Music.
Trisha Bowden, founder of Mysterium Music, says the dual success of the INNER PASSION album debut and tour points to the power of collaboration in today's music industry. "Working together, everyone benefits," she said. "Peter and Tina are simply enchanting on stage. Additionally, both Valley and Mysterium worked hard to pre-promote our albums -- INNER PASSION and LOVE -- and I think that is paying off in the tour's success and the #4 Billboard debut. Our tour merchandise table offers albums from Valley Entertainment, Mysterium Music, and the artist's own albums...we are all uplifting one another, and today's fans really appreciate a variety of choices."
Well in advance of the tour, Hearts of Space promoted INNER PASSION on their home page with a special offer that the first 100 pre-ordered albums would arrive personally signed by both artists. Mysterium Music actively promoted LOVE in connection with the GRAMMYs and Valentine's Day, offering a gourmet LOVE Essentials gift basket of customized special products including a ChocoLOVE candy bar, essential oil, soy candle and signed CD. Bowden believes that all of these efforts, along with active social media promotions by all parties, created the perfect setting for a successful tour. Seating is limited, but a few tickets for the final event are available at http://tickets.brightstarevents.com/event/peter-kater-tina-guo-san-rafael
Based on the success of the collaborations to date, discussions are underway for special promotions surrounding Inner Passion, Love and extending the tour beyond California and Colorado.
INNER PASSION and LOVE are available from quality retailers, gift shops, and online music outlets in both physical CD and digital download formats. Listen and explore the releases here:
INNER PASSION: http://www.valley-entertainment.com/inner-passion-1.html
LOVE: http://www.mysteriummusic.com/albums/love
For further information, please contact:
Beth Ann Hilton, The B Company, bethhilton(at)theBcompany.com
Angie Rivera, Valley Entertainment, angie(at)valley-entertainment.com
ABOUT:
INNER PASSION
Imagine what it would be like if you simply stepped into the studio, hit the record button, and played with another artist for the very first time - unrehearsed, no score, just music, emotion and totally present in the moment together. A completely raw experience of two creative souls coming together for the first time, unprepared and transparent, sharing from deep within their very own "inner passion." That is exactly what virtuoso pianist Peter Kater and cellist Tina Guo did for this amazingly beautiful new release INNER PASSION. Listen for yourself to the sheer beauty. This proves that their musical talent and creative abilities are a perfect match. From the opening track, "First Embrace," through "Within Silence" and "Spirits Entwined," this album, by these two creative geniuses does not disappoint. [HOS311426 CD cost $9.98 / $16.98] http://www.valley-entertainment.com/inner-passion-1.html
PETER KATER
Eleven-time Grammy nominee/multi-platinum selling pianist/composer Peter Kater has been leading innovator of contemporary instrumental music for over three decades. He has sold over 2.5 million albums, recording more than 60 albums over the past 30 years, with eight of them appearing on the Top 20 Billboard New Age Albums chart. His recordings with R. Carlos Nakai have each sold hundreds of thousands of albums, and his music has been heard all over the world from Healing Centers to the Olympics and Carnegie Hall. He's performed for presidents and dignitaries, composed music for 11 On & Off-Broadway dramatic plays, and scored the music for over 100 TV & Film productions, including soundtrack scores for "Civil War: The Untold Story," "How the West was Lost" and "10 Questions for the Dalai Lama." Throughout his career, Peter has collaborated with many of the world's most-talented musicians, actors and directors. He is a proud recipient of many awards and honors including the Environment Leadership Award from the United Nations and the ZoneMusicReporter Lifetime Achievement Award. His full biography, music and videos are available at http://www.PeterKater.com.
TINA GUO
Tina Guo has developed an international multi-faceted performance and recording career as a cellist, electric cellist, erhuist, and composer known for her distinctive sound, mastery in a wide range of genres, and improvisatory style in major motion picture, television, and game scores. Tina has performed on scores for film, including 2016's "Kung Fu Panda 3" and "Batman v Superman", "Sherlock Holmes", "Clash of Titans", and "Iron Man 2", television series, "Family Guy", "American Dad", "The Cleveland Show", and "King of the Hill", and blockbuster video games, "Diablo III", "Hearthstone", "Call of Duty: Black Ops II", and "Assassin's Creed Syndicate". She has been a featured performer at Comic Con, Blizzcon, and Video Games Live and was awarded the Instrumental Artist of the Year Award at the 25th Annual Los Angeles Music Awards. A featured soloist on Cirque Du Soleil's "Michael Jackson: The Immortal World Tour" from 2011-2013, Tina performed on Michael Jackson's "Immortal" - replacing the original guitar solo in "Beat It" with an electric cello/guitar battle-style duet with guitarist Greg Howe. Guo's 2016 tour schedule includes the Hans Zimmer Live Arena Tour, Carnegie Hall with Joe Bonamassa, and solo concerto performances with symphonies. (http://www.tinaguo.com/)