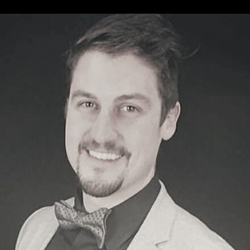 When you wake up with the opportunity to represent the thousands of hard-working individuals associated with our brand, it makes it easier to give your absolute best every single day
Olean, NY (PRWEB) July 05, 2016
Vector Marketing has promoted its Shreveport, Louisiana District Manager Joel Koncinsky to public relations manager. He will be a member of the Vector's digital strategy team, responsible for assisting with both internal and external corporate communications. Vector Marketing is the sales and marketing arm of Cutco Cutlery, manufacturer of the world's finest cutlery.
Koncinsky's work ethic and business acumen make him an ideal candidate for the job, said Vector Marketing Corporation President Bruce Goodman.
"Joel Koncinsky has earned the respect and admiration of colleagues throughout Vector as a result of his long-term dedication to our company, consistently outstanding results, and the strong business relationships he has forged in his own district office and across the nation," said Goodman. "He is the perfect choice for this position, and I know that he will flourish in his new role."
Prior to becoming public relations manager, Koncinsky managed the largest district team in Vector Marketing's Southern Rock Division. His Shreveport office was also the highest in productivity in 2015 for his four-state division.
In 2010, Koncinsky earned a bachelor's degree in marketing and analysis from Louisiana Tech University. In his nine-year career with Vector Marketing, Koncinsky has hired, trained and developed a sales team of more than 1,000 representatives mainly comprised of undergraduate student sales reps. In fact, Vector Marketing is the leading recruiter of undergraduate college students in the nation and they offer invaluable professional training and development for Vector Marketing student sales reps. Koncinsky's Vector team has generated more than $3.4 million in sales of Cutco Cutlery merchandise.
Koncinsky says he is excited about his new position as PR manager: "When you wake up with the opportunity to represent the thousands of hard-working individuals associated with our brand, it makes it easier to give your absolute best every single day," he said. "I couldn't be more impressed with the quality of individuals within our company and on the digital strategy team. It's a great privilege and opportunity to work with Vector Marketing Corporation, where we are built to last."
About Vector Marketing:
Vector Marketing is the marketing and sales arm of Cutco Cutlery, a 65-year-old company with headquarters and manufacturing facilities in Olean, New York. Vector sells Cutco products through a national team of sales representatives primarily consisting of motivated college students who are trained to do in-home and virtual demonstrations on a pre-set basis. Vector Marketing has over 200 locations nationwide and works with students of all majors with any levels of professional experience.