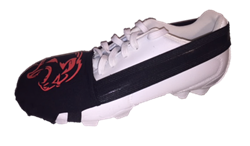 Instead of paying a premium price for outdoor soccer cleats with built in performance enhancements, soccer players can now equip any outdoor cleat with some of those same enhancements at a much cheaper cost with the KicStrapp.
Pearl, MS (PRWEB) October 18, 2016
KicStrapp brings to the soccer world a new product category with its themed performance utility straps. Soccer players are now given the ability to equip their soccer cleats with performance enhancements as it relates to strike power, ball control, and foot protection.
This Mississippi based company has officially launched its American Made innovative product. The first standard line of these utility straps consist of two themes, the Beast Mode Theme, and the Dragon's Fury Theme. These utility straps are solely design for outdoor soccer cleats. Each strap is engineered with a specialized silicone material to help with ball control and ball trapping. Each strap also contains a laser cut high density special foam filler that helps with strike power and foot protection. In addition, the strap's durable moisture wicking frontal cleat cover helps with preserving and maintaining cleat longevity.
"This product not only has a performance value but an economic value as well," stated Kimberly Gray, VP of Marketing. "Typically, high quality soccer cleats that come with specialized performance enhancements are really expensive. You can literally Google those types of cleats and see that they are priced well into the $100 to $300-dollar range. Yet, our straps can equip any outdoor soccer cleat with some of those same specialized enhancements at a much cheaper cost, and the scary part is that we're just getting started. We intend to introduce a variety of straps with different features, including straps with smart technology."
About KicStrapp:
Founded in 2016, KicStrapp is an innovative soccer accessory company. Its first line of innovative products is the Standard Utility Strap. Currently, these utility straps are exclusively sold online at http://www.kicstrapp.com. This innovative product retails at $45 and $50 dollars.
For all questions and inquiries, please contact us at info(at)kicstrapp(dot)com