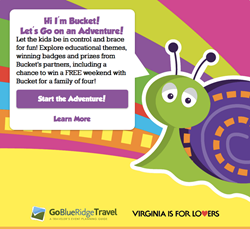 Teaching kids local resourcing
Shenandoah Valley, Virginia (PRWEB) September 29, 2016
Starting its second season, the Kids Trail has selected local resourcing to be the focus for the Fall VA Adventure Game where a family can win a 48 hour trip to the Shenandoah Valley. The fall game centers around five farms in the region and the families who have owned these farms through generations. Not only can kids pick apples and pumpkins, but one can follow kid-friendly recipes a child can make at home from GoBRT's chefs at Taste of Blue Ridge. The Kids Trail's mission is to help parents make lifetime memories with kids and the Virginia Adventure Game helps with developing the itineraries. Join the fun and register to play this new Fall game.
Starting in Winchester and following the Interstate 81 corridor, Throx Market Station, a card sponsor, offers a gasoline stop as well as the opportunity to play a "School Box Lunch" game in the market. Kids will learn about healthy snacks, sandwiches made with gluten free meats, and vintage sodas. To celebrate the game, Throx Market Station is throwing a Throx-tober Fest on October 27th from 4 - 7 pm for families. Parents can enjoy tasting a flight of craft beers and taste the new sandwich specials. Kids will have a flight of vintage healthy sodas and the new kids menu will be showcased.
The Family Drive In is sponsoring Harrisonburg Wellness Card. October will come close to wrapping up the season for the drive in. October 7 and 8th is Monster Rama featuring the black and white monster movies from the 50's, 60's, and 70's. Then the annual Halloween Trunk or Treat is on October 23rd.
The five farms are:
Mackintosh Fruit Farm owned by Lori and Bill Mackintosh is just outside of Berryville between Leesburg and Winchester. Families can enjoy the last farm dinner on The farm has its Pig Roast Apple Butter on October 1st. Then on October 8th, enjoy a dinner with Mom and Dad prepared from food grown right there on the farm. Come play the word finder game about nature, insects, and fruits and vegetables.
Great Country Farm begins its Pumpkin Festival on October 1st. Located just a few miles from MacKintosh in Bluemont, Virginia, plan on 30 minutes for the Lady Liberty corn maze. Kate and Mark Zurschmeide would like families to meet Aaron the Dinosaur who just loves pumpkins. There is also Marshmallow roasting from 11 - 4 pm on the weekends as well as tons of other fun activities. Don't forget to say hi to "Elmer", the pot belly pig.
A newcomer to the Kids Trail, Hartland Farm is just off of Interstate 66 in Markham. On October 15th at 1 pm, there will be a special performance by Shenandoah University students - "Your a Good Man, Charlie Brown." Freshly caramelized apples are a favorite treat.
Back Home on the Farm is located in just on the edge of the city limits in Harrisonburg, Virginia. Lynne and Gary invite you to ride the Virginia Carousel a surprise to find on the farm. Meet the friendly farm animals including Spike, the donkey. There are lots of educational moments including "Barn Learnin' where kids can learn how to grow some of the nation's most important crops: Corn, wheat and soybeans.
Explore More Discovery Museum has a puzzled Farmer game for the older kids and a crazy Scavenger Bingo game for the little ones. Since wellness also involves our teeth, check out the new dental exhibit. As one knows, connecting the dots between good eating and good health is part of wellness.
Perhaps one of the most unique places to visit is Mt Crawford Creamery. Nancy Hill's family invites families to tell us which animals are not at Mt Crawford, another fun word game one will receive when one arrives. Meet the new calves and have a life experience trying to fee one from a milk bottle. It may take two hands to hold the bottle since a young calf has quite a pull. Don't leave without taking a bottle of chocolate milk home.
Bucket and friends, Shenny, Ridge, and Fungi love that the Shenandoah Valley offers so many memories for family travel. The Virginia Kid Adventure Game was started by the Kids Trail this past summer. Each season will have a new set of cards. Plus Christmas Bucket is going to join Elf on the Shelf for hysterical fun the month of December. There will also be a big surprise to be announced just for Christmas.
About GoBlueRidgeTravel.com Launched in December 2011, Go Blue Ridge Travel (GoBRT) is an e-commerce marketing company using digital internet channels to both create a travel ecosystem community for the northern Piedmont and Shenandoah Valley of VA, WV, and MD. In 2014, the Kids Trail was launched to promote multi-generational family travel and has received three grants from Virginia Tourism. In 2016, Taste of Blue Ridge, a foodie escape experience supporting local resourcing in the valley. Founded and owned by Nancy Craun who grew up in the area and has 30 years of experience in the event planning, restaurant, hotel, and marketing arenas. GoBRT covers 160 plus mile radius of the Interstate 81 Corridor spanning the states of Virginia, West Virginia, and Maryland. Contact: Nancy Craun Founder and Owner GoBlueRidgeTravel.com and ShenandoahValleyKidsTrail.com Phone: 540.533.1853 Email: info(at)GoBlueRidgeTravel(dot)com