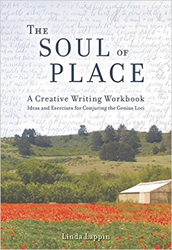 "Insightful exercises help creative writers of all levels attune themselves to the power of place in order to churn out evocative prose that jumps off the page." The Intelligent Traveler, National Geographic Traveler
San Francisco, CA (PRWEB) April 26, 2016
The Soul of Place—A Creative Writing Workbook: Ideas and Exercises for Conjuring the Genius Loci (Travelers' Tales, 2015), authored by novelist and travel writer, Linda Lappin, has been awarded with a gold medal in the 2015 Nautilus Book Awards. The Nautilus Book Awards program rewards and promotes world-changing books that inspire and connect our lives as individuals, communities, and global citizens. The core mission as stated on the Nautilus Book Awards website is to celebrate and honor books that support conscious living, green values, high-level wellness, and spiritual growth. Awards are given in 24 categories in children and adult titles. Previous winners include Julia Cameron, Betty Edwards, Deepak Chopra, Catherine Ann Jones, Andrew Weil, and His Holiness the Dalai Lama.
In this engaging creative writing workbook, novelist and poet Linda Lappin presents a series of insightful exercises to help writers of all genres—literary travel writing, memoir, poetry, fiction, creative nonfiction—discover imagery and inspiration in the places they love. Lappin departs from the classical concept of the Genius Loci, the indwelling spirit residing in every landscape, house, city, or forest—to argue that by entering into contact with the unique energy and identity of a place, writers can access an inexhaustible source of creative power. The Soul of Place provides instruction on how to evoke that power. The writing exercises are drawn from many fields—architecture, painting, cuisine, literature and literary criticism, geography and deep maps, Jungian psychology, fairy tales, mythology, theater and performance art, metaphysics—all of which offer surprising perspectives on our writing and may help us uncover raw materials for fiction, essays, and poetry hidden in our environment.
An essential resource book for the writer's library, this book is ideal for creative writing courses, with stimulating exercises adaptable to all genres. For writers or travelers about to set out on a trip abroad, The Soul of Place is the perfect road trip companion, attuning our senses to a deeper awareness of place.
The Buzz...
"Insightful exercises help creative writers of all levels attune themselves to the power of place in order to churn out evocative prose that jumps off the page."—The Intelligent Traveler, National Geographic Traveler
"An inspiring buy for writers, lovely...explorative,"—Book Riot
"A workbook for all creatives."—Wewanted2bwriters.com
"A conscious way to explore the power of place."—Lipstick and Wanderlust
"The proven exercises that billow from this remarkable craft book reveal the mystery of how place affects human souls, and help writers to find the meaning and stories that emanate from any given spot on earth."—Serving House Journal
About the Author...
Tennessee native, Linda Lappin, prize-winning novelist and travel writer, is the author of The Soul of Place—A Creative Writing Workbook (Travelers' Tales 2015). She has published three novels: The Etruscan (Galway, Wynkin deWorde, 204, 2010), Katherine's Wish (Eugene: Word Craft of Oregon, 2008) Signatures in Stone (New York, Pleasure Boat Studio, 2013). She is the winner of the Daphne Du Maurier Award in Suspense and Mystery Writing for the Best Mystery of 2013. Her essays have appeared in The Kenyon Review, the Literary Review, Prairie Schooner, Rain Taxi, the Writers' Chronicle, anthologized by Seal Press, awarded the Travelers Tales/ Solas House Bronze Medal for travel writing, the Hugh J. Luke award for the essay, and nominated for the Pushcart Prize.
In July 2016, Lappin will be conducting a multi-genre writing workshop based on her new book, The Soul of Place, in Greece, on the island of Andros under the auspices of the Aegean Arts Circle. For more information see http://www.lindalappin.net
The Soul of Place: A Creative Writing Workbook by Linda Lappin, is available in paperback (ISBN: 9781609521035, 256 pages, $16.95 list) and all ebook platforms (Kindle ASIN: B00WQ5FQG0, $16.99 list; other ebook formats: ISBN: 9781609521042, $16.99 list) all published by Travelers' Tales 2015
Distributed by Publishers Group West, Ingram, Baker & Taylor, and all better literary distributors—this title is available through Amazon and all significant online retailers, public libraries, and independent booksellers nationwide. Publishers Group West International sells throughout the English-speaking world, Latin America, and Asia. Continental European distribution is managed through the UK division.