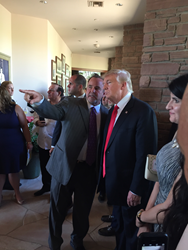 Washington, D.C. (PRWEB) December 06, 2016
Lloyd Claycomb, a prominent American philanthropist and businessman who played a leading role in campaigning for President-elect Donald Trump, has been appointed to the Transition Finance and Inauguration committee. This follows his appointment to the 2016 State Victory Finance Chairs.
Lloyd Claycomb - the current CEO and Chairman of the Board of United Builders Service and AviBree Real Estate Holding, Inc - showed great dedication to fundraising in the months leading to the Election. His participation in the Cleveland 2016 Convention, where he met RNC Chairman Reince Priebus and discussed policy changes, the Trump campaign, and funding for the Republican Party resulted in increased exposure for Cleveland as a business hub to be developed.
Aside from his generous donations towards Trump's victory campaign as well as various charitable initiatives, Lloyd Claycomb's appointment to the Trump Transition Finance Committee follows his appointment to the Arizona Commission on Judicial Conduct by former AZ Governor Jan Brewer - two positions he is more than qualified to fulfill.
Following the announcement of Trump's Transition Finance Committee on December 7, Donald Trump is set to host a $5,000-a-head breakfast to raise money for Trump for America, a group that is helping to fund the president-elect's transition. The fundraiser will be held in New York and will includes 60 hosts. Some of the names apart from Lloyd Claycomb include well-known Steve Mnuchin (reportedly Trump's pick for Treasury Secretary), Wilbur Ross, Brian Ballard, Ambassador Charlie Glazer and many others. Some other attendees are well known in the community like Lewis M. Eisenberg, a businessman and investor who serves as finance chairman of the Republican National Committee and sits on the leadership team of Trump's inaugural committee.
As the CEO of United Builders Services in Colorado and a finance chair for Donald Trump's campaign, Claycomb brings years of professional and philanthropic experience to the Transition Finance Committee. The Trump campaign has selected Thomas J. Barrack Jr. as the committee chairman. He is an international financier and private equity investor, and the founder and executive chairman of Colony Capital, a New York Stock Exchange global investment firm.
President-elect Donald J. Trump will allow corporations and wealthy individuals to make large donations to fund the activities surrounding his upcoming inauguration, as recently announced. Up to this point Trump has shown clear interest in diversifying his cabinet and try to heal lingering rifts in the Republican Party, reaching out to Gov. Nikki R. Haley of South Carolina, General James "Mad Dog" Mattis, and Betsy DeVos, a prominent Republican fund-raiser as well as Ben Carson, who challenged Mr. Trump for the Republican nomination.
You can reach Lloyd Claycomb on twitter @Lloyd_Claycomb or through his personal website.