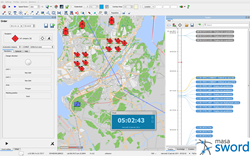 After extensive evaluation, we found that SWORD was the most effective tool for our teams to train and work with.
Paris, France. (PRWEB) January 13, 2016
SWORD is a wargame with automated forces designed for training, planning, and decision support. It uses advanced artificial intelligence to enable realistic simulations of military and civil units reacting to a wide variety of scenarios. Their automated actions follow doctrine and procedures previously validated by subject matter experts. This unique capability allows for large-scale exercises to be conducted realistically while minimizing costs and animation effort.
The CMDR COE will use SWORD to train participants for emergency situations and for interoperable scenarios including both civil and military actors. The use of SWORD will also help them in contingency planning for crises and disasters.
MASA Group President and CEO, Juan-Pablo Torres, said: "As MASA continues to develop SWORD for its customers around the world, emergency planning has proved to be a vital functionality. We have been continually improving SWORD for many years so that our customers can use it for both training and planning purposes. MASA is honored that the NATO CMDR COE has chosen SWORD as its constructive simulation and we are proud to support NATO's crisis management and disaster response operations. We are truly excited about this first acquisition of SWORD by a NATO entity and we look forward to other potential deployments across NATO in the future".
Colonel Vassil Roussinov, Director of the Center of Excellence, said: "We were looking for a state of the art constructive simulation with an extensive use of artificial intelligence capable of dealing with complex interoperability issues both on the military and the civil sites. After extensive evaluation, we found that SWORD was the most effective tool for our teams to train and work with. What really set SWORD apart was that we felt that it was the tool that could not only cover our current but also our future requirements in a society that is increasingly demanding. In cooperation with MASA Group we can make a lot of improvements in the near future in the CMDR field and can propose to NATO a new environment where they can train and exercise crisis and disaster management issues".