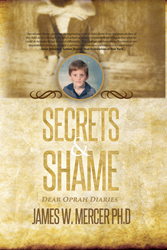 "The letters to Oprah bring a sad yet lovely note to the book...This book will help so many people, it will change so many lives. It's changed mine, for certain." Eileen Davidson, The Young and the Restless, Bravos' Real Housewives of Beverly Hills
Austin, TX (PRWEB) October 25, 2016
James Mercer, PhD., founder of Lonestar Social Services that provides community services to children who have suffered abuse as well as helping families adopt children, released his first book, "Secrets & Shame: Dear Oprah Diaries". The book chronicles Mercer's life journey, telling stories that span the extensive gamut of human emotion, recounting a horrific childhood he endured growing up in a small Texas town.
In Mercer's book, "Secrets & Shame: Dear Oprah Diaries", he talks about almost daily beatings and/or verbal abuse from his father and nearly being killed by him at various times of his life - starting at the age of seven. Mercer recounts about growing up with the fear and guilt of trying to be the protector of his mother and brothers at such a young age. Years of feeling unworthy, he wrote letters to Oprah and journaled his pain and suffering, asking questions or forgiveness for not being "normal". By watching The Oprah show, he felt as if she was answering his letters; he learned how to cope and obtain the strength to continue fighting to live.
"If the only thing that had come out of the journals was the daily cathartic effect it offered me in those early years, helping me survive day to day, writing those journals alone would have been enough", Mercer said. "After the journals were written and stored away, they sort of took on a life of their own. By using the journals as a resource for term papers I wrote in college, the story started coming alive on the written page, and it soon became apparent that a book was meant to be".
Mercer grew up in a small town in Texas, to a mother who fell victim to domestic violence and an alcoholic father who constantly told him he would never amount to anything. Growing up feeling unloved, he experimented with drugs, prostitution and dropped out of high school in the eleventh grade. He tried taking his life several times but somehow he always survived.
"Secrets and Shame is a testament to the human spirit. The abuse that Mercer and his family endured was gut wrenching and made me cry more than once", writes Eileen Davidson, from the Young and the Restless and Bravos' Real Housewives of Beverly Hills. "The fact that Mercer overcame such adversity, and the people that helped him along his way! Colorful and compelling characters. The letters to Oprah bring a sad yet lovely note to the book as well. I can't say enough good things about it. This book will help so many people. It will change so many lives. It's changed mine, for certain" Davidson concluded.
After everything Mercer went through, he knew education was the key to his existence as that is what he learned from Oprah. He received his GED then processed to obtain his Associate of Applied Science in Funeral Services (Funeral Director/Embalmer), Bachelor of Arts in Psychology (Child Psychology), Master of Arts in Psychology (Forensic Psychology), Doctorate of Psychology (Counseling Psychology).
Mercer felt the need to protect and advocate for other children that are and have been faced with difficulties of physical and sexual abuse or domestic violence, especially in the foster care system. In 2013 Mercer opened Lonestar Social Services where he places hundreds of children in foster care and has the honor of seeing many of them find their forever home with parents who will love and care for them.
Mercer opened his nonprofit 501(c)3 in 2013- Lonestar Fostering Connections - that gives facilities for those children who age-out of foster care and have nowhere to call home. Currently, Lonestar Social Services and Lonestar Fostering Connections are working together to help unwanted children find forever loving and stable homes that every child deserves. Throughout the years, Mercer and his team have helped hundreds of foster teenagers obtain jobs, apartments, acclimate into society, as well as obtain scholarships for education – teaching them the healthy way living.
A celebrated author and adoption advocate, Mercer lives in Austin with his partner and three daughters and finds joy in his Jewish faith and community.
Mercer's book, "Secrets & Shame Dear Oprah Diaries" is available at Amazon, Barnes and Noble as well as Indie Bound, iBooks, Kindle and other major retailers. A portion of profits will go to benefit children in foster care through his nonprofit Lonestar Fostering Connections.
A second book, "Matters of Life After Death" from Dr. James Mercer is due 2017. It describes in personal detail his experiences dealing with the deceased, embalming, cremations and how life intertwines with death. This book gives the reader a behind the scene look into life as a Funeral Director/Embalmer with humor, laughter, drama and excitement.
More information about "Secrets & Shame Dear Oprah Diaries" visit http://www.drjamesmercer.com Follow Dr. James Mercer on Facebook: SecretsAndShame, Twitter @secretsandshame and Instagram at james_mercer_phd.
For media inquiries, interviews or speaking engagements, please contact Kelly Bennett at Kelly(at)BPUnlimited.com.
Kelly Bennett, Bennett Unlimited PR
(949) 463-6383
Kelly(at)BPUnlimited.com
http://www.BPUnlimited.com
@KellyBPU