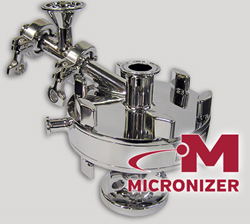 It was a natural move for Micronizer to have its own website given its name recognition within the industry
HANOVER, MA (PRWEB) January 20, 2016
The Micronizer brand jet mill now has its own dedicated website with http://www.micronizer.com live as of January 19, 2016. The theme of the website is the Micronizer's Legendary Performance and Guaranteed Results. The website focuses on all models of Micronizers including the Micronizer, the Pharmaceutical Micronizer, and the Steam Micronizer. For easy navigation to relevant information, http://www.micronizer.com organizes content by industry so site visitors can find data applicable to their business. These industries include agchem, ceramics, energy storage, food ingredients, government & defense, metals, performance materials, pharmaceuticals, pigments & cosmetics, and titanium dioxide.
Content on the website includes machine specifications, application bulletins, articles, case studies, and product bulletins. Visitors can also watch a Micronizer in action through an animated video, learn about the history of the Micronizer, and discover Sturtevant services such as sample testing, field services, training, and replacement parts.
The Micronizer, patented since 1934, is now a series of jet mills that employ a unique fluid energy grinding system to generate a particle-on-particle impact to produce sub-micron particle sizes. Having been a main feature on Sturtevant's original website since its inception it was time for the Micronizer brand to step out on its own digitally. Sam Rajkovich, Vice President of Sales and Marketing for Sturtevant, explains that it was the "natural move for Micronizer to have its own website given its name recognition within the industry."
ABOUT STURTEVANT
Sturtevant Inc. is the leading family-owned manufacturer of material processing equipment including its patented Micronizer jet mill which produces sub-micron sized particles, Powderizer an air-swept impact mill with integral classifier, Simpactor and Infestroyer, centrifugal, pin-type impact mills and three types of three performance air classifiers that separate fine and coarse particles with precision and accuracy.