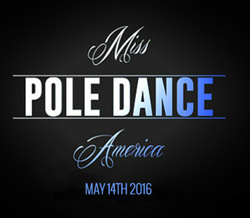 MPDA features both mind-blowing aerial skills and knee-weakening sex appeal
Nashville, TN (PRWEB) April 21, 2016
With the success of the inaugural Miss Pole Dance America (MPDA) competition in 2015, the best pole dancers in the nation once again will converge on stage in Nashville next month for the second annual Miss Pole Dance America (MPDA), an innovative fitness competition for modern showgirls and pole idols. The top ten finalists have been announced for this year's event, which will take place on Saturday, May 14, 2016 at Marathon Music Works, an iconic Nashville concert venue.
"I'm thrilled to bring the show to Nashville again in 2016," said Alethea Austin, the show's creator, a former US pole dance champion and owner of Nashville's premier pole dance studio, The Chrome Bar. "My goal with the first MPDA was to produce a show that featured both mind-blowing aerial skills and knee-weakening sex appeal. We did that, creating a show that crossed into mainstream and showcased pole dancing as an art. I'm incredibly excited to do it again and raise the bar even higher this year."
MPDA competitors are professional dancers, entertainers, athletes and aerialists who embody the technique, stage presence and "x-factor" needed to hold their own in this unique competition. Taking the stage in 2016 will be the following 10 dancers: Amber Wolf (Long Beach, Calif.), Amy Henderson (Dallas, Texas), Brynn Route (Los Angeles, Calif.), Lux ATL (Atlanta, Ga.), Maggie Ann (Worcester, Mass.), Melissa Schrader (Chicago, Ill.), Nadia Sharif (Los Angeles, Calif.), Rachele Ribera (Norman, Okla.), Sarah Jade (Tampa, Fla.) and Talia Moreno (Las Vegas, Nev.).
"MPDA 2015 featured stunning visuals, great music and unforgettable performances, with dancers performing in a rock-star stage quality production complete with props, lighting and a packed venue," said Austin. "MPDA 2016 promises to deliver even more spectacular performances from the biggest names in pole dancing."
Four pole troupes also will compete for titles on the MPDA stage in 2016. They are STEZ (Austin, Texas), Wunderland (Los Angeles), Head Over Heelz (Raleigh, NC) and Tracee, Aggie and Anna (New York City). More than $6,000 in cash and prizes will be awarded to the top individual and troupe winners. All competitors will be judged on factors such as aerial skills, costume, creativity and dance technique.
Tickets for MPDA are $65 for a seated general admission ticket or $30 for a general admission standing room only ticket. A limited number of VIP tables are also available for $1,000 (table for six). The show starts at 9 p.m., with doors opening at 8 p.m. Tickets can be purchased online at Marathon Music Works' website. Marathon Music Works is located at 1402 Clinton St. in Nashville.
In addition to the show, MPDA weekend also will feature open-to-the-public dance workshops from top pole stars, as well as the Studio Owner Summit (SOS), a business conference for dance studio owners from across North America. Workshops and SOS will be held at Nashville's Hotel Preston, the official hotel of MPDA.
More information about MPDA can be found at misspoledanceamerica.com.