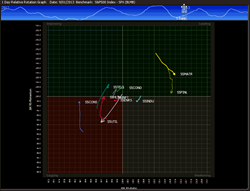 Standard formatting and high resolution charts will help candidates assess data more efficiently and reduce candidate confusion.
(PRWEB) May 24, 2016
The Market Technicians Association (MTA), the leading organization for investment professionals advancing the discipline of technical analysis, is pleased to announce a collaborative partnership with Optuma Financial Solutions (OFS) as the exclusive software partner for the Chartered Market Technician (CMT) Program. Providing a wide array of price charts and data visualization tools integral to the CMT Program, this partnership will provide OFS the opportunity to reach thousands of investment professionals currently pursuing the CMT designation while enabling the MTA to standardize all assessment materials on a single software platform.
The CMT Program consists of three exams which candidates are required to pass in order to obtain the CMT designation. During each exam, candidates must analyze approximately 20 price charts and other visual market data to develop their answer. "This partnership brings great benefit to our candidates. Standard formatting and high resolution charts will help candidates assess data more efficiently and reduce candidate confusion." Said Gordon Scott, CMT, who is managing director of CMT studies at the MTA.
According to Scott, writing questions for the exam is a significant task which is spread out over two dozen Subject Matter Experts (SMEs) who work as test writers and reviewers. "Now we can provide a charting platform common to all of the SMEs increasing their efficiency and expanding our exam question bank."
Optuma Financial Solutions is an ardent believer in the importance of top quality education for analysts, managers, advisors and all market participants. According to the company's founder and CEO, Mathew Verdouw, CMT who recently completed the program to become a charterholder: "Data visualization tools become more valuable as investment professionals become more astute in the interpretation, synthesis and application of information to their investment process. As computing power has grown, the statistical tools once available to only a select few are now commonplace. OFS is committed to the continual development of new analytical techniques while improving the user experience and ensuring they understand how and when to use such tools."
System design is one area of the CMT curriculum that has expanded over recent years as industry professionals seek to remove emotion from money management. Quantitative methods are built into the Optuma platform so that all users can test strategies against historical market data, and program their own statistical indicators directly on the platform. Visualization tools such as market volume profile display trading volume at any given price illuminating areas of confluence for supply and demand. The software also features sector mapping which gives the analyst a three-dimensional view of individual securities or sectors on a relative performance basis. These tools are extremely powerful for illustrating concepts in the CMT Program.
To further enhance this valuable partnership for current and prospective candidates, the Optuma Trader Edition will be made available at no cost to individuals enrolled in the CMT Program. "Moving from theory into practice is a hallmark of the instructional design and learning objectives inherent to the CMT Program. Having a first class software package will bring the curriculum to life; allowing candidates to see the technical tools at work in a professional context." said Tyler Wood, managing director of global business development for the MTA
About the Market Technicians Association (MTA)
The Market Technicians Association (MTA) is a not-for-profit member association of over 4,500 investment professionals in 85 countries. The mission of the MTA is to establish and maintain the highest professional standards among technical analysts by educating the investment community about the theory, practice and application of technical analysis.
The MTA is the home of the Chartered Market Technician® (CMT) Program, the preeminent, global designation for technical analysis and the only technical analysis designation recognized by the Financial Industry Regulatory Authority (FINRA) qualifying candidates for a Series 86 exemption upon passing Levels I & II of the CMT exam. The Chartered Market Technician® designation is awarded to those who demonstrate mastery of a core body of knowledge of investment risk in portfolio management settings.
Examinations for the CMT Program are administered twice a year in April and October at Prometric testing centers around the world. For complete information, please visit http://www.mta.org.
About Optuma Financial Solutions.
Optuma is an advanced financial analysis software program designed for sophisticated financial market professionals which fuses Technical, Quantitative and Fundamental analytics. Founded as Market Analyst Software in 1996, Optuma Financial Solutions has continued to focus on researching ways computing power can enhance the analysis of price behavior while maintaining an interface that is extremely easy to use.