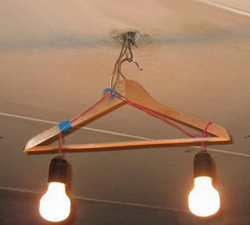 This year has provided some very original ideas - ranging from technically advanced and mechanically simple - yet effective...
Haverhill, MA (PRWEB) February 29, 2016
Newcastle Systems is proud to announce the four qualifying finalists for our "DIY Champs" contest. Voting for the winning entry is now open to all of Newcastle's customer and the public.
The four semi-finalists are:
1. Ron Wilson of Jo Ann Fabrics - for the "Forklift Recall Light" attached to and powered by a Newcastle Systems cart.
2. Rob Dugan of Franke Management, Inc. - for the "Shock Reduction Handle" sourced externally and configured to make the movement of almost any cart on the floor more ergonomic.
3. Arielle Evans of McMaster Carr - for the "Trick Out Kit" of accessories that customize their Newcastle carts with a magnetic tool strip, a small box for additional tools, a clip-board clip attached to the top of the work surface and other work-improving additions.
4. The RFID team at Advanced Mobile Group - for the "Mobile Antenna Array" that provides a telescoping vertical pole with multiple RFID antennas that allows the user to take inventory for an an entire aisle while walking.
Voting for the contest winner is open to all Newcastle Systems customers, vendors and the public. See the individual entries and select your favorite on our "DIY Vote" Page.
About Newcastle Systems
Newcastle Systems is an innovator of workplace mobility solutions for many of the world's leading retail and operations companies. As the leading provider of Mobile Workplace© solutions, Newcastle Systems provides the means to dramatically improve employee and facility productivity without major changes to your infrastructure, software or processes. A Newcastle Systems' Mobile Workplace© facility requires less equipment and less power to do the same work as a standard workplace configuration.
Newcastle Systems is a "Customer-First" Business whose philosophy is "Provide innovative solutions that make equipment more mobile and information more readily available across an entire enterprise. Period."
For more information: Please visit our website at http://www.newcastlesys.com or direct inquiries to us by phone at 781-935-3450 or by e-mail at sales(at)newcastlesys(dot)com.