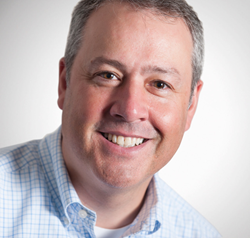 My goal is to build on the trust that Partners & Simons has earned from our clients and continue to drive their business forward by creating trusted relationships with their key stakeholders..." - Andrew Pelosi
Boston, MA (PRWEB) November 22, 2016
Partners & Simons has promoted EVP and General Manager Andrew Pelosi to president, announced Ron Bess, CEO of Myelin Communications. Partners & Simons, owned by Myelin Communications, specializes in healthcare and financial services.
In addition to his existing responsibilities, Pelosi will focus on creating value and driving growth by enhancing the agency's service offering to keep pace with the continued evolution of media, creative, and technology. His efforts will ensure the agency is ready and able to service both the current and future needs of all the agency's clients.
"Andrew has consistently demonstrated a strong commitment not only to the agency but also to our clients and partners," said Bess. "In his new role, I am confident Andrew's leadership will help guide Partners & Simons to a higher level of excellence."
Since joining Partners & Simons in 2013, Pelosi has provided outstanding stewardship of the firm's overall business operations while also providing strategic counsel for key clients, including AIG, Nationwide, Dartmouth-Hitchcock, The Jimmy Fund, SelectHealth and a number of BlueCross BlueShield entities across the country.
With more than 25 years of experience at agencies including Hill Holliday, Mullen, and Bronner Slosberg Humphrey (now DigitasLBi), Pelosi draws insight from his work with industry-leading clients such as Bank of America, HSBC, General Motors, AT&T, IBM, Major League Baseball, FedEx, Lever Brothers and the J.M. Smucker Company.
"A trusted reputation is more important than ever today, and it can be directly correlated to a company's business performance," Pelosi said. "My goal is to build on the trust that Partners & Simons has earned from our clients and continue to drive their business forward by creating trusted relationships with their key stakeholders: customers, prospects, business partners, influencers and employees."
About Partners & Simons
Founded in 1989, Partners & Simons is a brand communications and integrated marketing services firm with deep domain expertise in healthcare and financial services that creates communications to help people make the most important decisions in their lives. Fluent in digital and traditional communications—from online, mobile, and social media to direct mail, print, outdoor and broadcast advertising—the firm creates integrated marketing programs that connect with consumers and business-to-business buyers in meaningful, measureable ways. More information is available at partnersandsimons.com.
About Myelin Communications
Just as myelin insulates and strengthens connections between the brain's neurons, making them more powerful message conductors, Myelin Communications is a unique network of companies specializing in health and financial services. For a growing portfolio of payer, provider, medical, financial, and wealth-management organizations, Myelin creates connections that can make message platforms even more powerful. Our capabilities include brand development and activation, market research, channel planning and media solutions, integrated creative and marketing content, digital technology solutions, sales enablement, data analytics, mobile engagement, measurement strategies and more. More information is available at http://www.myelincommunications.com/.