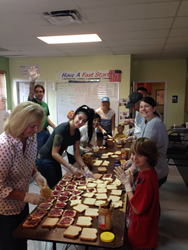 For some, it's not just a sandwich. It's hope. It's love. It's a reminder that people still care
Tampa Bay, FL (PRWEB) June 28, 2016
Much like Alex's Lemonade Stand Foundation for Childhood Cancer, PB & J for Tampa Bay started as one person doing something simple to serve others. Last year, Vector Marketing district executive Mike Abramowitz started making peanut butter and jelly sandwiches to feed the homeless. He bought supplies and gathered donations from Cutco Cutlery customers. Together he and volunteers from his Vector Marketing sales team made meals at monthly "Feeding Frenzies" and distributed them to the homeless. (Vector Marketing is the sales and marketing arm of Cutco Cutlery.)
In June, Abramowitz will surpass 20,000 sandwiches made over the course of two years. He also hopes to expand his grass-roots efforts to 100 different Vector Marketing locations throughout the United States. The next Feeding Frenzy will be Sunday, June 26, at 9 a.m. at the local Vector Marketing headquarters, 11380 66th St., No. 134, in Largo, Florida. All credentialed media members are invited to attend.
Abramowitz said he's humbled by how much the efforts have grown since he started in 2015.
"Our first Feeding Frenzy had seven people and we made 350 meals. We have now had more than 100 different volunteers come out to make a difference by spreading the love one sandwich at a time," he said. "Most people desire to contribute, and our Feeding Frenzy makes it simple and attainable. Imagine 100 locations nationwide, large or small, combining for more than 50,000 meals per month. We have a shot at 1 million meals annually at some point in the future."
Abramowitz is the author of two Amazon best-sellers, "G.R.A.B. Tomorrow: Your Best Year Ever" and "G.R.A.B. Tomorrow: Real Stories, Real People." He is also the founder of the G.R.A.B. Tomorrow Community, created to help young professionals develop life skills, succeed professionally, and take control of life outside the classroom. Abramowitz has a bachelor's degree in industrial engineering from the University of South Florida. He is in the top 500 Vector Marketing sales representatives of all time, and has more than $6 million in sales as a Vector manager.
Already, additional Feeding Frenzies have been held in Sarasota, Dade City, Tampa, and Brooksville, Florida. Abramowitz hopes to grow the charity using volunteers at other Vector Marketing offices throughout the country. He says PB & J for Tampa Bay has always been about more than sandwiches.
"For some, it's not just a sandwich. It's hope. It's love. It's a reminder that people still care," said Abramowitz. "It's inspiration to continue fighting through life's obstacles."
About Vector Marketing:
Vector Marketing is the marketing and sales arm of Cutco Cutlery, a 65-year-old company with headquarters and manufacturing facilities in Olean, New York. Vector sells Cutco products through a national team of sales representatives primarily consisting of motivated college students who are trained to do in-home and virtual demonstrations on a pre-set basis. Vector Marketing has over 200 locations nationwide and works with students of all majors with any levels of professional experience.