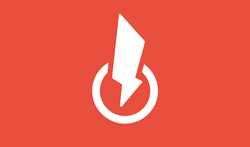 Our services have expanded and deepened beyond 'creative' for several years now, so it's been a long time coming.
Louisville, KY (PRWEB) February 02, 2016
Power Creative announced today the launch of several new changes and initiatives for 2016, including a name change, a new logo and website, and a more specialized brand position.
The long-standing agency will now be known as, simply Power. Originally called Power Graphics in 1976, the company has undergone a few name changes over the last four decades as its service offering has broadened. Since the mid 1990s, the agency was known as Power Creative and grew into one of the region's largest full-service advertising agencies with over 140 employees. Representatives for Power say this recent move is a natural evolution.
"Our services have expanded and deepened beyond 'creative' for several years now, so it's been a long time coming," explains Tim Lucas, Power President. "We wanted to continue the legacy of our founder, Mike Power, but also reflect the evolution of the company. In addition, a majority of our clients and our own folks have been referring to the agency as 'Power' for some time now, so it's certainly comfortable and familiar."
To complement the name change, Power has also redesigned their logo and premiered it on the new website http://www.poweragency.com.
Power's recently launched website also introduces a new focus for the agency—installed home product brands. According to the site, Power has been marketing products that "keep homes humming and households happy" for 40 years. They cite their proficiency and deep understanding of the residential product category, and its associated vertical markets and sales channels.
"Over the last year and a half, we've done extensive work internally to focus our brand identity, the agency's value proposition and what makes us unique among the vast pool of advertisers," said Andy Stillwagon, Power Chief Marketing Officer. "Based on Power's history and experience, we could confidently position the agency as an authority in the installed home product category and focus on supporting brands selling through multiple sales channels to homeowners. We've never been a traditional B2B or B2C agency. We've really been more of a B2D2C agency—a business-to-dealer-to-consumer agency. And with this new Power brand launch, we're owning it."
Mr. Stillwagon explained that this new brand position will help guide Power's new business efforts, but will not affect their relationships with clients outside of installed home product brands. They will remain committed to their current client base, as well as seek opportunities to help promote local business and organizations. Power currently has several notable Louisville clients on their roster, including the University of Louisville, Churchill Downs, Speed Art Museum, Olmstead Parks Conservancy and Trinity High School.
Power's announcement comes off the back of a December 2015 launch of Kitestring, a visualization company spun off from the agency. Kitestring operates independently from Power and focuses on offering three core services: CGI, photography and video services. The company continues to service traditional Power clients, as well as pursues work from marketers or their partner agencies, local and nationwide.
David Power, CEO of Power and son of the late Mike Power, the company's founder, took the reigns as president and CEO of Kitestring as well. A managing director for Kitestring will be named soon. "Power's well-established visual services can now flourish with Kitestring," said David Power. "Their work enhances Power's offerings, but will also allow for creative project work outside and independent of Power's traditional client base."
Prior to announcing Power's new brand position and the Kitestring endeavor, the agency also launched an emerging technology division in the summer of 2015, called Strike Lab. The lab focuses on new marketing trends and technologies, including, virtual reality (VR), multi-touch touch screens and tables, gestural interfaces, 360 content and 3D capture, and projection mapping.
"2015 was a year of reflection, recalibration and retooling for the future," said David Power. "My goal was to put a plan of sustainability in place. With the agency's new brand, the launch of Strike Lab and the spin-off of our world-class visualization services into Kitestring, I'm confident we've done that. Marketing is a rapidly evolving world and we've done the hard to work to ensure we will remain a relevant and valuable marketing provider for the future."
About Power
Power is an independent marketing firm focused on premium installed home brands. Based in Louisville, KY, their position as a residential product authority spans four decades. With notable clients like GE Appliances and Lennox, Power has the proven expertise to help clients support their brand and distribution channels in smart, effective and relevant ways. See how Power can help clients navigate the connected world and reach their targets with laser focus. Visit poweragency.com for more information.