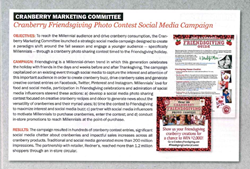 Wareham, MA (PRWEB) September 08, 2016
The Cranberry Marketing Committee (CMC) received a 2016 Produce Business Marketing Excellence Award for its Cranberry Friendsgiving Photo Contest Social Media Campaign.
The CMC commissioned Pollock Communications to create a paradigm shift around the fall season and engage a younger audience, specifically Millennials. The successful campaign earned CMC and Pollock a spot among an elite group of companies featured in the August issue of Produce Business for successful marketing campaigns that captured consumers' interest and increased sales.
"Our objective was to bring awareness of cranberries, America's Original Superfruit®, to the influential Millennial generation," said Michelle Hogan, CMC's executive director. "This health-conscious generation lives on social media, so it was a natural progression to meet them where they already are and encourage them to get creative with our versatile, healthy fruit."
CMC and Pollock's winning marketing campaign drove interest for cranberries, garnering hundreds of cranberry contest entries and more than 200 million traditional and social media impressions by capitalizing on the existing Millennial-driven trend of Friendsgiving. A partnership with retailer Redner's Markets coincided with the Friendsgiving contest and reached more than 1.2 million shoppers via an in-store circular. Additional partnerships with social media influencers motivated Millennials to purchase product and enter the contest with their creative cranberry recipes and décor ideas.
"We take pride in creating and executing successful programs for our clients. It is an added bonus to also be recognized by an industry leader like Produce Business," said Louise Pollock, president of Pollock Communications.
Planning has begun for an even bigger Cranberry Friendsgiving Photo Contest this year, which will run from October 17-December 19. Visit cranberryfriendsgiving.com for more information.
About Produce Business
Produce Business is a trade magazine covering purchasing, marketing, merchandising and management in fruit, vegetable and floral industries. Readers include retailers, foodservice distributors, wholesalers and exporters. For more information about Produce Business, visit producebusiness.com.
About the Cranberry Marketing Committee (CMC)
The CMC was established as a Federal Marketing Order in 1962 to ensure a stable, orderly supply of good quality product. Authority for its actions are provided under Chapter IX, Title 7, Code of Federal Regulations, referred to as the Federal Cranberry Marketing Order, which is part of the Agricultural Marketing Agreement Act of 1937, as amended. This Act specifies cranberries as a commodity that may be covered, regulations that may be issued, guidelines for administering the programs, and privileges and limitations granted by Congress. For more information, visit uscranberries.com and follow @uscranberries on Twitter, Facebook, Instagram and Pinterest.
About Pollock Communications
Pollock Communications is a New York City-based independent, full-service, food, health and wellness public relations agency launched in 1991. Pollock's public relations and credentialed nutrition experts create innovative partnerships that link brands to health and wellness platforms. Pollock has a long history of reaching key influencers and successfully communicating the taste, health and lifestyle benefits of brands and commodity foods to consumers, retailers and healthcare professionals. For more information about Pollock Communications, visit lpollockpr.com.