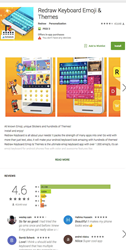 "Next up is a daily leaderboard featuring the most active daily users. Also in the wings is a VIP system, that will reward the most engaged users, and a new series of 50 achievements," says Andrei Vlaicu, PM, on gamification in Redraw Keyboard.
Bucharest, Romania (PRWEB) October 27, 2016
Though launched less than two months ago, Redraw Keyboard is one of the most beloved apps on Google Play and the highest-rated keyboard app of all. With a 4.6-star rating, the young app is now ahead of its more established competitors, winning over users from the biggest names in the personalization market. Analysts expect that number to rise to a 4.8 which would indeed be setting new standards for apps in the personalization category on Play.
Redraw Keyboard owes much of its appeal to the rewards-based usage model: the more time users spend in the app, i.e. the more they type or the more emoji they use, the more achievements they can claim. These are rewarded with coins that can be used to get more keyboard skins (themes), wallpapers, sticker packs etc. This, coupled with the leaderboard that entices users of a competitive nature, increases engagement levels within the app, which are usually lower for keyboards running on top of other (messaging) apps.
Redraw Keyboard offers its users hundreds of themes as well as options for more hands-on customization: choosing fonts, colors and sounds for the keys and background and even importing personal photos to be applied as a skin over the keyboard. The preset themes and sticker packs are original works made by T-Me Studios artists, who are already responsible for over 6,000 such personalization apps on Google Play.
Not many people know that personalization apps are second only to games on Google Play in terms of traction with users, which is why the smart move by T-Me Studios developers to add game-like mechanisms to the highly customizable keyboard is one of the "keys to success" it's banking on. But that's not the only trick up Redraw Keyboard's sleeve. The app also boasts Google Docs integration, gesture-based typing (swipe input) and unbeatable instant translation to satisfy the professional power user.
The two million users typing away on Redraw Keyboard - 400,000 of which are active in the app every day - are certainly a testament to how well this two-pronged recipe is performing. As such, the devs are constantly brainstorming new features that track with the app's main function as well as adding value to the user in ways that other keyboards don't think to.